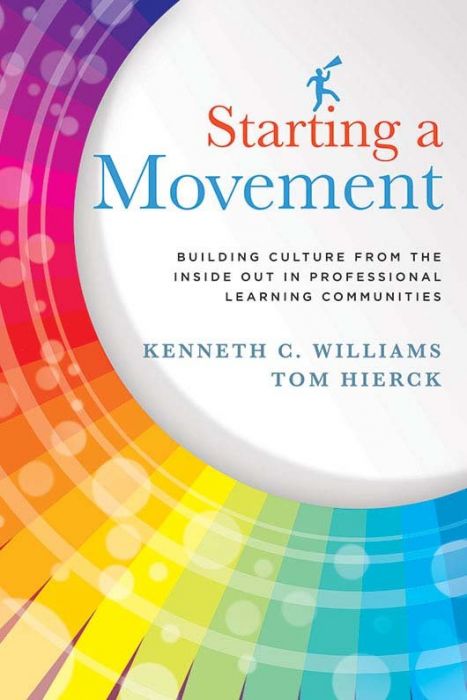 Starting a Movement
Building Culture From the Inside Out in Professional Learning Communities
Explore a four-stage authentic alignment model, which will take you through the Why, Eye, How, and Now of transforming your school's culture.
Publication date:
Only %1 left
Starting a Movement
Infuse energy back into the practices of your PLC. Explore the authors' four-stage authentic alignment model, which will take you through the Why, Eye, How, and Now of transforming your school's culture. Through this inspiring guide, you'll discover how to bridge the gulf between principles and practice to cultivate an empowering environment that is committed to a cycle of continuous improvement.
Use the authentic alignment model to align your school's guiding principles and staff actions.
Learn to express, clarify, and align beliefs so they are meaningful to teachers, staff, and other stakeholders.
Create maximum buy-in among all members of the school community.
Update practices to 21st century expectations to ensure learning for all students.
Support PLC implementation in your school.
Related Topics
LeadershipProfessional Learning Communities
---
Additional Information
Product Code: BKF234,EKF012
ISBN: 9781936764662
Published By: Solution Tree
Page Count: 200
"A common failing of educators beginning to build a PLC is to jump into the specifics of the process without establishing a solid foundation. Starting a Movement not only alerts educators to this mistake but also provides powerful tools, processes, and questions that lead to a deeper common understanding of the moral imperative of the work. Williams and Hierck make a terrific contribution to the PLC literature."
"Starting a Movement is a must-read—a compelling and comprehensive framework for creating, revisiting, or strengthening a learning-for-all culture."
"Starting a Movement provides a road map to facilitate the PLC transformation in your school and help you embrace a collaborative culture and shift from doing PLC to becoming a PLC."
"Starting a Movement is a required read for educators who seek to grow a school culture where collective responsibility, shared leadership, and a focused commitment to learning is valued and fostered. Williams and Hierck have developed a framework of authentic alignment that will support the why and the work of a committed learning team. This book is a valuable resource for teachers and educational leaders, regardless of where you are in the journey from doing to being a committed PLC. Starting a Movement will help you achieve what every professional learning community member deserves: a culture of deep collaboration and optimal learning experiences for all."
"The authors have provided a step-by-step process to develop and grow successful PLCs. The book provides a reminder of the importance of ensuring that schools and systems commit to their own mission, vision, values, and goals through strategic actions and not merely words. It also causes leaders to truly reflect on their own leadership ability and capacity in order to create a culture of collective responsibility where all students succeed."
"Kenneth and Tom do a masterful job of bridging the theory-versus-practice gap. In our busy world of education, having their expertise in school culture and leadership communicated effectively in an easy-to-read format is refreshing. The entire text is both practical and engaging. One of its major strengths is the outstanding use of templates and self-assessments to support the spot-on PLC theory provided within the text. As an elementary school principal, I appreciate having these resources to utilize immediately with staff. As a professional consultant, I can't wait to teach out of this book. It will have such a positive impact on schools. Ken Williams is one of the most engaging speakers I have ever heard, and one of the top professional developers in the country. His voice rings loud and clear in this outstanding literary work. All students deserve to have schools implement the PLC philosophy, and Starting a Movement will set them well on their way in doing so!"
"We finally have a book that helps schools evolve from doing PLC to being a PLC! Williams and Hierck provide a practical and logical solution to help leaders move people from compliance to commitment."
"Williams and Hierck provide a compelling vision for schools as PLCs that will reignite your passion for leading this critically important work for todays students. Starting a Movement provides constructive advice, concrete tools, and illuminating examples that leaders will find invaluable no matter at what point they are in their PLC journey. The process the authors present is a brilliantly practical guide to creating a culture where all students can learn at high levels."
"Whether you are a PLC veteran or a PLC newbie, this book is destined to become your go-to guide to help you foster the culture required to move a staff from acting like a PLC to one that lives like a PLC. Ken Williams and Tom Hierck offer a compass, a road map, and specific directions to help steer your learning community to a place of collaboration. This book will help you move from words to action, and from compliance to commitment."
"This book by Ken Williams and Tom Hierck has been so worthy of the time I've spent consuming it. This is no bedside book that you can review, glean a few ideas, and then present a few hot topics to jumpstart a movement in your school. The practical steps within get right to heart of the matter and cause educators to engage in courageous conversations, deeper reflection, and deliberate action. The research is solid, the evidence of sustainable practices is clear, and, most importantly, the impact of PLC work is real. I've witnessed the use of PLCs to move communities in the three schools I've served as principal, as well as in the schools of many colleagues. Each school came with unique demographics, unique issues, and the common ground of a need to work collectively and collaboratively to share the leadership, share the responsibility, and share the accountability for the teaching and learning of all children. This book serves as a guide for the novice, but it is also for those who have been neutralized by the ebbs and flow of successes and roadblocks in creating and maintaining a school culture that promotes urgency for effective practices in teaching and learning. This book is for schools that have a void to fill with a positive climate of highly engaged administrators, teachers, students, and parents. This book is an answer for the 'implementation dip' that occurs in even the most successful schools when we lose focus on the common goal of maximizing student achievement. This book is a personal reminder of my promise to children."
Free Resources
Explore these powerful tools to help reach your goals.