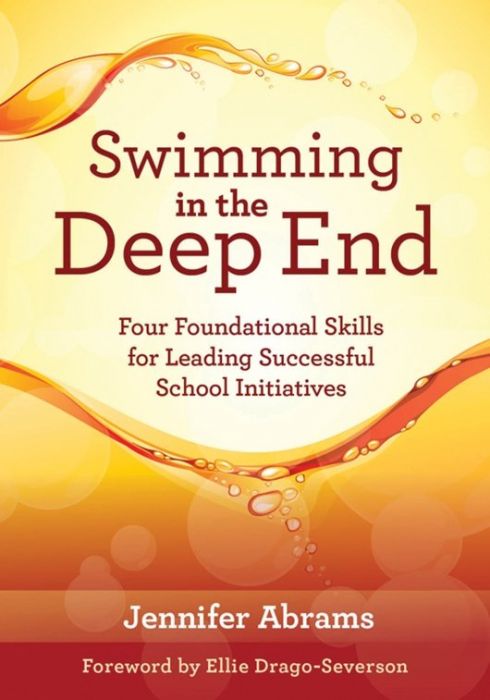 Four Foundational Skills for Leading Successful School Initiatives
Cultivate the foundational leadership skills you need to enact effective organizational change for school improvement. Utilize the four explored skills to strategically plan school initiatives, have critical conversations, respond to resistance, and manage yourself through change and resistance.
Managing Change Through Strategic Planning and Effective Leadership
Acquire the knowledge and resources necessary to achieve true success as a leader and enact strategic change and school improvement. In Swimming in the Deep End, author Jennifer Abrams dives deep into the four foundational skills required of effective leadership and change management: (1) thinking before speaking, (2) preempting resistance, (3) responding to resistance, and (4) managing oneself through change and resistance. Throughout the book, readers receive ample guidance for building these vital skills and leading school initiatives and implementation plans that face 21st century challenges head-on.
Develop the educational leadership skills needed to create real, strategic change in your school:
Gain an understanding of the most pressing issues facing schools today, learn why they must be faced, and consider your implementation plan.
Enhance your leadership and change-management abilities by mastering the four foundational skills.
Learn how to utilize your new mastery of the foundational skills to have critical conversations, resolve conflict, respond to resistance, and manage yourself through change and resistance.
Utilize an online appendix of quotes as a source of inspiration and motivation in guiding effective organizational change and strategic planning.
Access a comprehensive self-assessment designed to assist you in your growth as a leader.
Related Topics
---
Additional Information
Product Code: BKF830
ISBN: 9781947604018
Published By: Solution Tree
"It's all about the conversation, and Jennifer Abrams is a master of that! In Swimming in the Deep End, Abrams focuses on the leadership skills necessary to dive into any initiative and gives readers all of the talking points they need to help them negotiate the uncharted waters."
"Reading Swimming in the Deep End felt like having a coaching conversation with the author. Her honest, funny, and direct writing style was engaging and made me feel confident about planning for and executing change of any magnitude.

Swimming in the Deep End begins with reflective questions for four areas of change: thinking before you speak, preempting resistance, responding to resistance, and managing oneself through change and resistance. The book includes one chapter for each of these topics, and the chapters include a section related to each question. The organization made it very easy to personalize my reading experience, focusing on the sections where I, as a leader, have the most opportunity to grow.

Swimming in the Deep End includes a chapter about managing oneself through change and resistance. This sets Jennifer's approach to change apart from others' by helping us be mindful of and deliberately planning for our health and wellness while leading a change. She prompts us to identify relationships that will support us in leading change, expressing gratitude, living with a growth mindset, laughter, seeking inspiration, and giving back. I feel like Jennifer wrote this chapter just for me as a reminder to plan for self-care; to be an effective leader, I need to be emotionally and physically healthy."
"Graduate school doesn't teach leaders these necessary skills. Swimming in the Deep End helps any leader (aspiring, new, or veteran) keep his or her head above water while swimming through the change process with fellow educators.

Jennifer has done it again! Her latest book gives you the confidence and direction to dive in wearing a life jacket of leadership skills to swim in the deep end of change and keep you healthy and happy as you lead staff in a positive direction.

The book provides practical advice to confidently prepare for the many aspects of change: socially, psychologically, and cognitively. Readers will benefit from an enormous amount of online resources providing needed support for leaders. I look forward to attending a professional learning session on the book with Jennifer."