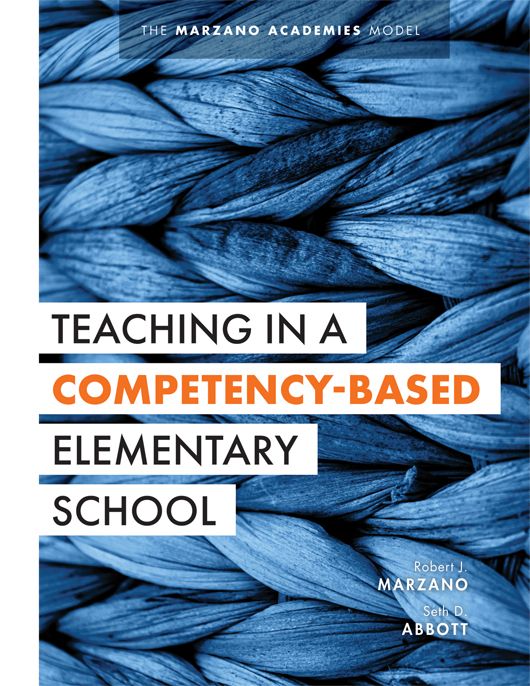 Teaching in a Competency-Based Elementary School
The Marzano Academies Model
Access your roadmap to competency-based education (CBE) success and discover essential teaching strategies from educators who have done this work. Learn how you too can positively impact student learning with this instructional framework.
Collaborative teaching strategies for competency-based education in elementary schools
Dr. Robert J. Marzano collaborates with Seth D. Abbott, a teacher working in one of the first districts in the United States to transition to competency-based education (CBE). Together, they offer a roadmap that guides readers through the instructional framework foundational to CBE success. The book helps elementary school educators make shifts in their daily practice to positively impact student learning and offers practical strategies from real classrooms.
Rely on this teaching resource for competency-based education in elementary schools:
Understand competency-based education and the Marzano Academies specific approach.
Gain practical guidance on how to use the instructional framework that is key to student-centered learning.
Access practical examples and strategies for implementing the Marzano Academies model of teaching in your classroom.
Support your students in attaining academic achievement and developing important life skills through competency-based learning.
Develop a productive, effective mindset to realize the full potential of CBE.
---
Additional Information
Product Code: BKL053
ISBN: 9781943360390
Page Count: 184
"Teaching in a Competency-Based Elementary School is a lavish resource for educators who want to move away from a traditional model of teaching toward the direction of a competency-based environment. The organization of the four overarching domains (feedback, content, context, and self-regulation) allows you to focus on components you would like to prioritize in your district, school, or classroom and then move to other sections at your own pace. After implementing these competency-based system concepts in your educational setting you will be able to confidently say, 'I've got this now!' and see the positive results firsthand."
"Building on decades of work translating research and theory into effective practice, Marzano and Abbott have created a valuable resource for educators interested in verified applications of competency-based education. Avoiding the cacophony of separate and often disparate programs that often befalls schools and educational systems, this resource provides systematic planning for each element in a competency-based model, illustrating how to meld the components together to build a resilient and successful composite. Based on the Marzano Academies model, this work provides a meaningful proficiency scale that captures the progression of learning and supports consistency across educators and subject matter. One of the attractions of this model is that it not only provides a road map for strengthening academic repertoires, but also includes guidelines and examples for the explicit teaching of cognitive and metacognitive skills—those essential for critical thinking, decision making, and life. Social-emotional competencies are fortified through the school environment the model helps shape and through instructional practices associated with excellent teaching. Useful for both novices to competency-based, proficiency based, or mastery learning, and educators and administrators well versed in the practice, this resource provides an extremely useful and practical guide for anyone interested in building and sustaining a successful competency-based program."
"Teaching in a Competency-Based Elementary School presents flexible structures with adaptable tools to support goal setting, assessment design, and instruction to foster student-centered and engaged learning in a competency-based model—or really any model. As the saying goes, good teaching is good teaching. This book offers detailed guides founded in neuroscience and research-based practice for teaching and learning that fully embrace the messiness of learning and teaching that any educator could implement to align curriculum, assessment, and instruction and maintain a stimulating and welcoming learning environment. This book provides needed insight on how to shift from traditional learning models to competency-based approaches that meet student needs and hold students to high expectations."