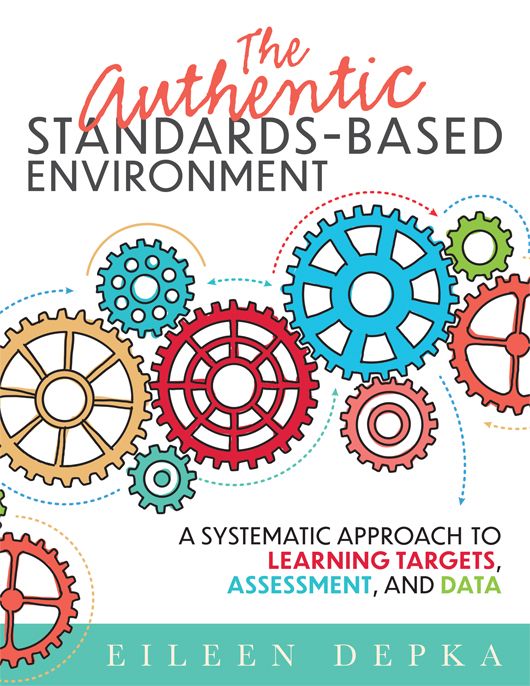 The Authentic Standards-Based Environment
A Systematic Approach to Learning Targets, Assessment, and Data
Implementing a true standards-based approach to teaching and learning can be complicated work. Author Eileen Depka breaks the process down into logical, doable steps that connect learning targets, rubrics, assessment, and data all back to standards.
Publication date:
Only %1 left
A practical guide to standards-based learning for teacher teams and educators
Why are standards so important, and how do they improve student learning? In The Authentic Standards-Based Environment: A Systematic Approach to Learning Targets, Assessment, and Data, Eileen Depka dives into standards-based student learning with a simple, easy-to-use approach to unpacking standards, developing learning targets, and designing rubrics and assessments. Using data-driven methods and clear examples, this book makes a standards-based process manageable.
K–12 teachers and administrators will:
Learn to unpack standards and understand the components and expectations rooted in them
Understand how to design standards-based learning targets that directly connect to each component of the standard
Design individual and common assessments that link with the rigor and expectations of the standard
Report data and design a scope and sequence that will guide next steps
Discover how to implement a standards-based system school- or districtwide
Related Topics
---
Additional Information
Product Code: BKG078, EKF623
ISBN: 9781954631250
Published By: Solution Tree
Page Count: 176
"Providing a wealth of ideas and examples, this resource will help anyone who wants to implement or strengthen a standards-based environment. From unwrapping standards, developing assessments and rubrics for scoring, and managing data to support learning to building a coherent curriculum, Depka shares a simple but effective process that will lead to success in this work."
"Whether you are brand new to standards-based learning or you are in the process of fine-tuning a work in progress, this resource serves as your go-to guide. From clarifying the why behind the work to the procedural steps needed to develop and implement an effective system, Dr. Depka has provided a step-by-step tool for establishing a standards-based learning environment from beginning to end. If you are considering a standards-based environment in your district, school, or classroom, this is a must-have resource!"
"This book provides explicit guidance about how to implement a comprehensive district and school reform model that emphasizes standards as a method of instruction, a means to learn, and a measure of assessment. This is the standards-based resource schools should utilize as their guide for how they use standards to drive decisions regarding instruction, learning, and assessment."