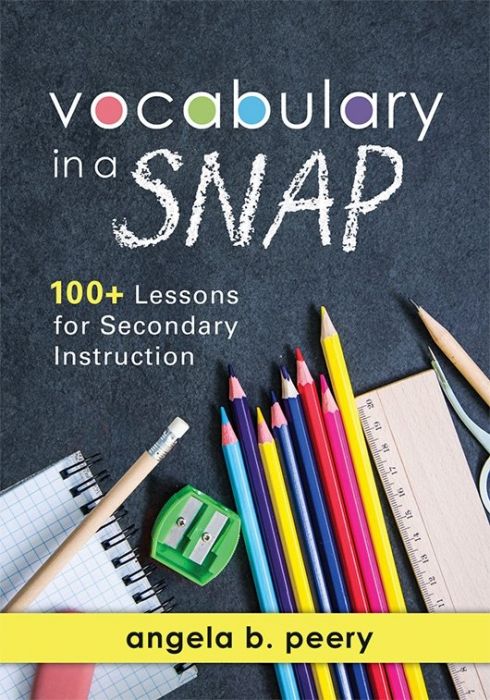 100+ Lessons for Secondary Instruction
Learn how to increase vocabulary skills using quick, flexible vocabulary exercises. Discover vocabulary learning strategies for high school and middle school vocabulary words.
How to teach vocabulary words for middle and high school students
Access 100+ effective, practical, and fun vocabulary exercises that take 20 minutes or less. Designed specifically for middle school and high school teachers of grades 6-12, each minilesson can be easily modified to fit your curriculum and your students' needs. Rely on this resource to help refine your instruction and strengthen students' vocabulary, their interest in reading, and their likelihood of success in the 21st century.
Learn how to increase vocabulary for high school and middle school students:
Explore more than 100 short, memorable minilessons for teaching vocabulary that can be adapted to fit diverse curricula.
Obtain suggestions for scaffolding and accelerating each short vocabulary activity to meet students' individual needs.
Target vocabulary words with the most crucial root words, prefixes, and suffixes in the English language to best employ instructional time.
Find helpful resources on how to teach vocabulary, such as websites and applications.
Gain research-based vocabulary learning strategies used in the minilessons.
Related Topics
---
Additional Information
Product Code: BKF783
ISBN: 9781945349058
Published By: Solution Tree
Page Count: 264
"Dr. Peery's book on vocabulary instruction is a teacher's treasure chest full of excellent, user-friendly strategies that replace simply defining words with elevating practice using rich application and transfer. An additional asset to this book is that it supports needed vocabulary knowledge required by academic standards and high-stakes testing. But most important, the minilessons are equipped with a plethora of 21st century resources that will ensure immediate student interest and engagement! Every secondary educator, regardless of the content area they teach, can benefit from the inviting and practical strategies, which center around use of robust root words that they learn in a SNAP. This book is a real winner!"
"Who says elementary students should have all the fun? Taking Dr. Peery's outstanding SNAP vocabulary lessons into secondary is pure genius! At a time when explicit vocabulary instruction in the upper grades is nonexistent, these step-by-step minilessons will be instant hits with both teachers and students!"
"As an educator of students in a rural area, I found the material presented in this book very beneficial. I have students who are reluctant to read because they are off grade level. The district that I am in allowed us the opportunity to work with Dr. Peery, so I know firsthand about her ability to help improve student skills through the use of vocabulary building. The strategies and vocabulary activities presented in this book are ones that will definitely hook your students, lead them into the realm of growth, and give them a newfound passion for reading. The book is a must-read and must-implement for all educators."
Free Resources
Explore these powerful tools to help reach your goals.