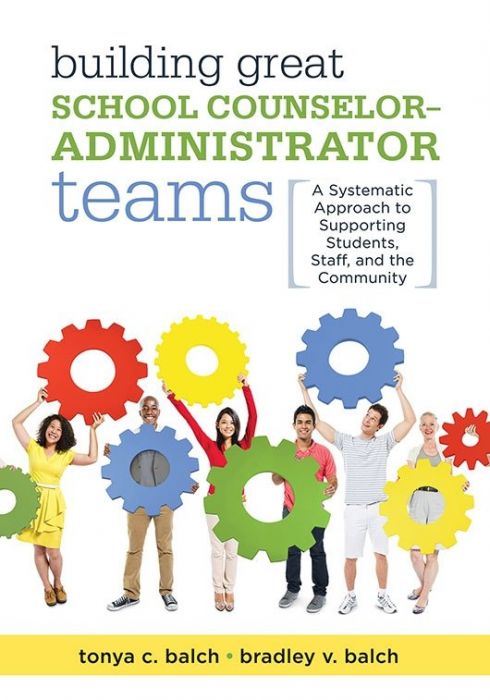 Building Great School Counselor–Administrator Teams
A Systematic Approach to Supporting Students, Staff, and the Community
Discover how to establish high-performance teams for guidance counselors and school administrators. Implement a collaborative decision-making process and clearly define leadership and school counselor duties in order to better respond to students' behavioral and mental health needs.
Balance school counselor and administrator responsibilities to build effective teams
By working together, school administrators and guidance counselors can greatly accelerate their impact on school improvement, student behavior, and mental health. With this practical guide, readers will discover a systematic approach for establishing an effective school counselor–administrator team. The authors share strategies and activities to foster trust and transparency, develop an agreed-on decision-making process, build consensus, commit to a continuous-improvement process, and more.
Use this book to develop effective processes for your school counselors and administrators to better support students:
Navigate the evolving roles of school counselors and administrators to build high-performing teams.
Examine the concepts of purposeful collaboration and consensus building among school administrators and guidance counselors: their implementation, their uses, and the benefits of including them in your group decision-making model.
Learn the six characteristics of high-performing teams: (1) trust and transparency, (2) results orientation, (3) building professional relationships, (4) respect for diversity and divergent thought, (5) an agreed-on decision-making process, and (6) a commitment to continuous improvement.
Consider ethical decisions for students, parents and guardians, and other stakeholders.
Participate in professional development activities on leadership, ethical decision-making, confidentiality, crisis management, and more.
Related Topics
LeadershipSchool ImprovementSocial-Emotional Learning
---
Additional Information
Product Code: BKF841
ISBN: 9781947604230
Published By: Solution Tree
Page Count: 208
"In the face of increased demands on both the school counselor and the building administrator, each is seeking ways to meet student needs that are coordinated and in concert with local and state initiatives. Building Great School Counselor–Administrator Teams provides such a blueprint through practical examples that will resonate with educators for their simplicity and approach to student support and success. The authors are to be commended for providing the field with this invaluable resource."
"This book drives home the importance of the collaborative relationship between the school counselor and administrator by walking us through the 'gray areas' when making difficult decisions and helping us to define best practices in our respective fields. This is an excellent resource to help school counselors and administrators understand their roles and build effective teams that work toward creating a safe school environment."
"This work goes beyond the concept of counselors and administrators playing nicely together in the sandbox to truly collaborating as a team in order to build an elaborate and effectively functioning structure for all stakeholders to be a part of to ensure educational success. The ideas of blending the unique roles of both the counselor and administrator together rather than competing against one another for the common good of student achievement is a paramount theme throughout this book. The Balches use a thorough approach that goes beyond informational and conversational to practical and applicative. The activities included at the conclusion of each topical section are pragmatic and would serve any school counselor–administrator team as a forward step to effecting systematic change in their individual schools and districts."
"This work provides a timeless and relevant account regarding the imperative of effective school counselor–administrator teams. The power of such a relationship has been well examined by Balch and Balch. Their account is compelling and to the benefit of student wellness."