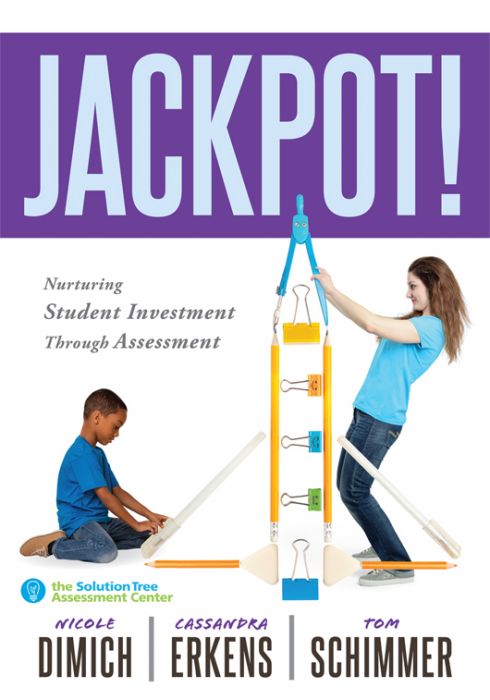 Nurturing Student Investment Through Assessment
A shift in the educator's mindset is needed to inspire student engagement and create a positive learning experience. Jackpot! offers immediate actions and addresses the mindset shift teachers must make to truly achieve student investment in their classrooms.
Publication date:
Only %1 left
An actionable plan for increasing student engagement
An age-old question universal to all teachers is "How do we get our students to care about their learning?" Jackpot! delivers actionable strategies to achieve that most important outcome of assessment—student investment. Not only does the book offer tools you can use, but it also addresses the mindset shift necessary for teachers to set students up for success as partners in their own learning.
Classroom teachers will:
Explore case studies covering a wide range of classroom experiences
Gain access to many different tools to successfully orient a growth mindset toward assessment
Understand the ideas behind successful assessment and how to put it into practice
Utilize sample charts to better direct the course of learning improvements
Reflect on personal classroom experiences and ways to improve
Related Topics
---
Additional Information
Product Code: BKF769, EKF364
ISBN: 9781943874804
Published By: Solution Tree
Page Count: 216
"Erkens, Dimich, and Schimmer remind readers that the fundamental purpose of assessment isn't just to gather evidence that educators can act on; rather, it is to build hope in the hearts and minds of the students in our classrooms. Filled with convincing research and practical suggestions that educators can implement immediately, Jackpot! is an essential addition to any practitioner's professional library."
"Jackpot!: Nurturing Student Investment Through Assessment by Nicole Dimich, Cassandra Erkens, and Tom Schimmer explores the concept of student investment through the lens of assessment. This incredible resource offers practical approaches [to] help assessment intersect with investment in rich and empowering ways for both teachers and students. . . . I recommend Jackpot! to every educator who is interested in developing assessment systems that support personally meaningful learning for every student in their care."
"Dimich, Erkens, and Schimmer's book is the most compelling work to date on using assessment to inspire, invest, and build hope in students so that they can understand and build confidence in their abilities. . . . They walk us through celebrations and solutions to help educators learn how to better use assessment to nurture student investment and learning. Their call to action for educators to reflect on past practices, question the norm, and invest in revamping the system truly hit the 'Jackpot!' and has left me with a lot to ponder and change in my own practice."