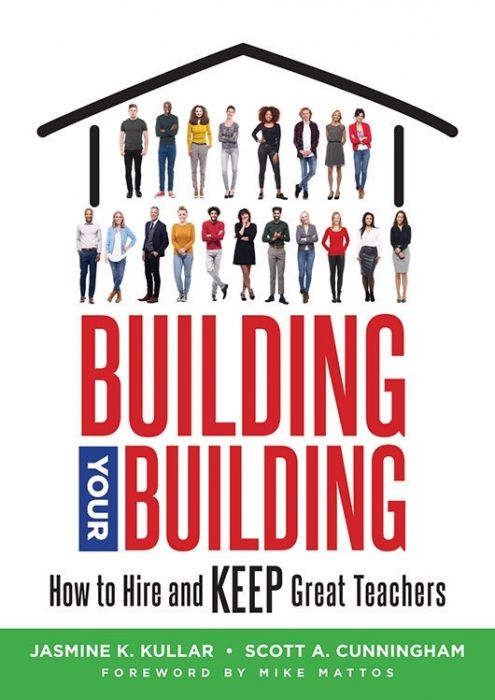 How to Hire and Keep Great Teachers
Ensure you hire—and retain—great teachers with the support of this practical book from Jasmine K. Kullar and Scott A. Cunningham. Learn techniques for teacher recruitment and retention that will draw effective teachers to your school and reduce teacher turnover.
Your guide to recruiting and retaining teachers
A growing teacher attrition rate, combined with fewer teachers entering the profession, has created a teacher shortage in many schools. In Building Your Building, authors Jasmine K. Kullar and Scott A. Cunningham detail how school administrators can overcome these challenges to ensure they proactively hire—and keep—great teachers. Within this practical guide, you will find best practices for recruiting and retaining teachers, from interviewing candidates and mentoring new teachers to providing meaningful recognition and more.
This book will help you improve the teacher hiring process and beyond to increase teacher recruitment and retention:
Learn how to hire the best teachers with practical recruitment and interviewing techniques as well as included teacher-screening interview questions.
Discover why recognition is important to retaining teachers and how to recognize teachers for their accomplishments.
Review the most effective ways to support new teachers.
Understand why and how to set up teacher mentoring programs.
Recognize why adult learning and continued professional development for teachers contributes to teacher success.
Related Topics
LeadershipProfessional Learning Communities at Work®Professional Learning CommunitiesSchool Improvement
---
Additional Information
Product Code: BKF896
ISBN: 9781947604810
Published By: Solution Tree
Page Count: 192
"If we—as professional educators—are going to achieve our collective mission of ensuring high levels of learning for every student, then we must rethink and redesign the way we attract, recruit, hire, assign, and support our colleagues. That is the purpose of this book! . . . I wish this book was available when I was a site principal."
"A valuable resource—well written and researched, with many examples to make next steps clear. The authors provide a foolproof process for choosing the right staff members and making staff feel wanted and supported."
"Clear and easy to read, with many opportunities to reflect on how best to apply the content to your own practice. I came away with some great practical ideas to implement immediately."