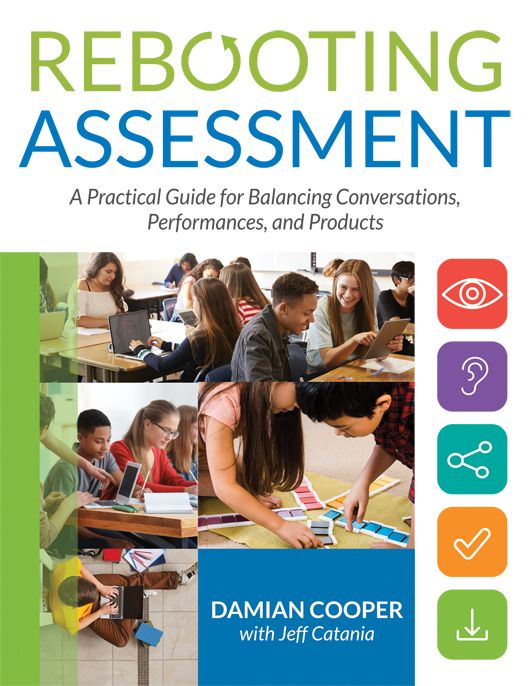 A Practical Guide for Balancing Conversations, Performances, and Products
Embrace a technology-supported and balanced approach for performance-based assessment. Use triangulation of assessment through performance observations, conversations, and physical products to accurately measure student competence for learning objectives.
Publication date:
Only %1 left
How to establish performance-based, balanced assessment in the classroom
Assessment is overdue for a technology-supported reboot, and this practical guide will help you do just that. Within its pages, you'll discover a balanced approach to assessment for learning that includes conversations and performance-based observations as key components. Real-world case studies and differentiated implementation options are available throughout the book to help you identify your current level of knowledge, gain confidence, and hone your skills.
Use this book to guide your journey to effective performance-based assessment:
Understand how balanced classroom assessment leads to deeper student engagement, greater equity, and increased reliability.
Discover the role of formative and summative assessments and how to use triangulation to assess student learning outcomes.
Watch video clips that feature real-life teachers and students implementing balanced assessment in the classroom.
Learn how to develop positive relationships with students and create a learning environment characterized by trust and collaboration.
Understand how to use technology and digital evidence to support assessment, including student self-assessment and peer assessment.
Rely on the teacher-readiness scale to help you identify your comfort level with the types of assessment and approaches within the book.
Third-grade teacher Jackie Clarke explains how she establishes a culture of learning in her classroom.
K-12 students and teachers share why balanced assessment using conversation and observation is better than being evaluated on written work alone.
Related Topics
21st Century SkillsAssessmentTechnology
---
Additional Information
Product Code: BKG011, EKF573
ISBN: 9781952812316
"Revolutionary is the only way to describe this must-have book. Any educator who wants to know more about technology-supported effective assessment in the 2020s and beyond will benefit from this approach to use conversations and performances as crucial components of balanced assessment."
"The term assess derives from the Latin assidere, meaning 'to sit beside.' Damian Cooper implores educators to return to this root and include conversations with learners as an integral part of a balanced approach to classroom assessment. The book's title is especially apt as they present ways of leveraging technology to efficiently manage the processes of assessment, feedback, and reporting. I highly recommend this book to educators interested in enriching classroom assessment practices in ways that can enhance learning, not just measure it."
"In Rebooting Assessment, Damian Cooper effectively hits the reset button for a contemporary approach to the vast and varied realm of assessment. Student voice, modern digital tools, and instant communication throw open the doors to documenting student learning as never before, and Cooper has provided the user manual."