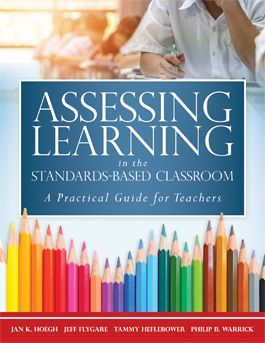 Assessing Learning in the Standards-Based Classroom
A Practical Guide for Teachers
Whether you are well versed in writing proficiency scales or are seeking practical guidance on classroom assessment that best supports student learning, this book will help you design standards-based assessments that provide meaningful data to inform your next steps in the instructional cycle.
Successfully integrate assessment practices that inform effective instruction for every student
What do successful assessments look like? According to this team of authors, they provide meaningful assessment data that inform your instruction to help your students reach proficiency in priority standards. With the help of this practical guide, learn how to successfully integrate assessment with the standards-based teaching and learning process to improve student performance and evaluate instructional efficacy.
This book will help K–12 teachers and assessment coordinators:
Gain clarity on the different roles of assessment throughout the instructional cycle
Determine the timing and format of assessments to best support student learning
Address test validity, reliability, and fairness
Understand collaborative techniques for assessment consistency
Access numerous sample assessments from the field
Related Topics
---
"The authors provide valuable insights into how teachers and collaborative teams can use assessment to improve learning and teaching. This book is packed with helpful ideas, clear examples, and actionable steps for improving the use of assessment in a standards-based learning environment. It's an important resource that will help in shifting educators' thoughts and philosophies about the role of assessment in today's classrooms."
"In this book, Jan Hoegh and colleagues provide classroom teachers with a step-by-step approach to designing high-quality classroom assessments that can be employed in traditional classrooms, standards-referenced classrooms, and competency-based classrooms. Using proficiency scales as their foundation, the authors clearly exemplify how teachers can render assessment, student feedback, and instructional design with a unified, seamless system."
"Hoegh, Flygare, Heflebower, and Warrick provide a valuable resource for educators in developing an understanding of the principles of sound assessment in the classroom. Teachers, administrators, higher education faculty, and professional developers can all benefit from the research-based yet practical guidance supported by examples of how to implement these principles and practices. This is a book that I would strongly recommend to any educator wanting to strengthen their assessment literacy and support effective communication of assessment to students, parents, and the public."