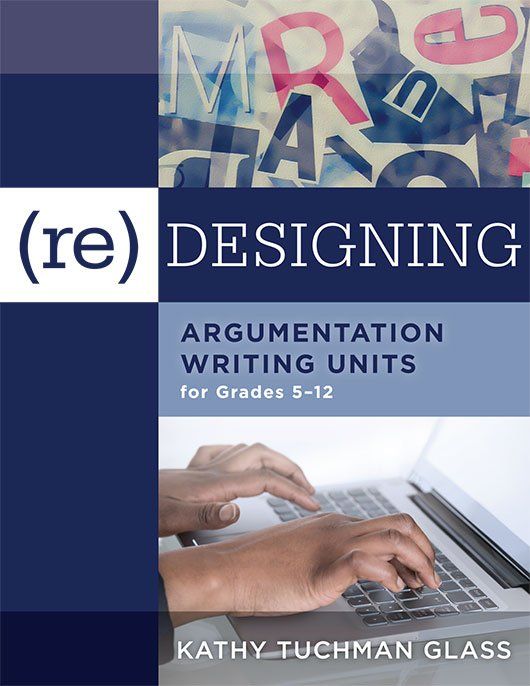 (Re)designing Argumentation Writing Units for Grades 5–12
Discover how to establish engaging argumentation units of instruction that empower students to present and convince others of their position.
(Re)designing Argumentation Writing Units for Grades 5–12
Writing plays a crucial part in all education disciplines, helping students to communicate their ideas to different audiences and extend their content knowledge. Developed for teachers, curriculum designers, and literacy coaches, this user-friendly guide offers practical recommendations, strategies, and tips for establishing argumentation units of instruction that empower students to artfully and logically present and convince others of their position.
Examine the characteristic elements of an argument and the benefits of teaching students to work through how to structure an argument.
Examine an argumentation unit map, its learning goals and guiding questions, and then develop one of your own.
Complete exercises throughout the book that will help to create a comprehensive argumentation unit of instruction.
Design a full lesson on argumentation, from establishing author's purpose, to supporting a thesis with evidence, to presenting counter-arguments.
Download templates, checklists, rubrics, and student activities useful for designing an argumentation unit and guiding lessons.
Related Topics
---
Additional Information
Product Code: BKF708
ISBN: 9781942496700
Published By: Solution Tree
"Glass's book successfully fulfills her goal of providing teachers with the steps for designing and delivering instruction on argument writing with depth, rigor, and clarity. Teachers will find a wealth of models and strategies for helping students develop their capacity to write more effective arguments and express their voice with power."
"Kathy's latest book is as thoughtfully organized as it is researched. This is so much more than a book. It is a tool for teachers and administrators to inform and engage in substantive learning practices to help students develop argumentative writing skills. Kathy takes the mystery out of the writing process and builds a clear pathway with examples, templates, and tools to support a developmental pathway for both teaching and learning. This book will be an ongoing resource for teachers and administrators to refer to in their work with students. I do not anticipate this book to just sit on a bookshelf; it will be constantly open and annotated to reflect a teacher's continuous growth and development of her own teaching experience. We are fortunate to have such a dynamic resource available to teachers!"
"I'm only two chapters in but highly recommend this book. With all the knowledge Kathy Tuchman Glass has about the genre of argumentation, it's a great tool to have at your side when it comes time to teach your argument unit."
Free Resources
Explore these powerful tools to help reach your goals.