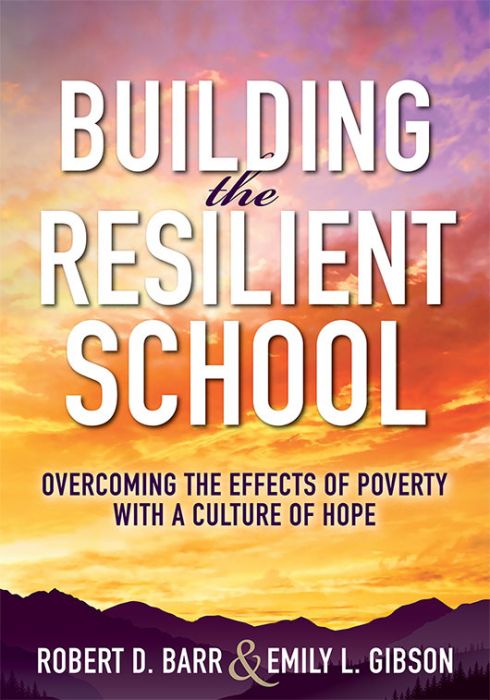 Building the Resilient School
Overcoming the Effects of Poverty With a Culture of Hope
Discover how to use resiliency and hope to address student needs and overcome the effects of poverty in the 21st century. Build learners' emotional intelligence and self-regulation skills so they can face adversity and defeat learned helplessness.
A guide to building resilient schools and fighting against the epidemic of poverty
Overcome the effects of poverty in the 21st century by embracing an innovative new vision of public schooling. With the guidance of this practical, research-driven resource, you will discover a model for building resilient schools that helps students work through their emotional and mental health needs, connect with caring adults, and find purpose for their lives.
Study the widespread poverty that currently exists in the United States.
Understand the ways poverty traumatizes students, impedes their mental development, and damages and interferes with their ability to learn.
Become familiar with secondary trauma and the ways educators can be traumatized by the compassion fatigue of working in communities that experience high rates of poverty.
Learn how the effects of poverty can be mitigated through the development of resiliency in students, which can lead to decreased absenteeism and increased learning.
Explore the four pillars of resilient schools.
Discover the importance of resilient schools in overcoming the effects of poverty and supporting students and students' families who are experiencing poverty.
Related Topics
Diversity & EquitySchool ImprovementSocial-Emotional Learning
---
Additional Information
Product Code: BKF836
ISBN: 9781947604131
Published By: Solution Tree
"This resource is a rare gem; tightly crafted, fully resourced, and on point in every chapter. Highly recommended and over-the-moon valuable. Get your copy, grow, and enjoy!"
"The challenges of poverty—generational poverty, adverse childhood experiences, academic gaps, and teacher attrition—often leave schools depleted of the assets their students and families need the most: hope and resilience.

In Building the Resilient School, Barr and Gibson provide a blueprint acutely needed to holistically address the academic, social-emotional, and human needs of students and their families. As a follow-up to their previous book, Building a Culture of Hope, Barr and Gibson expand upon the ability of resilient schools to serve their students, staff, and communities as a protective factor—one that is capable of growing optimism, belonging, self-worth, self-regulation, and purpose.

Additionally, recognizing that teachers and staff can't give what they don't have, Barr and Gibson provide guidance to develop a pervasive positive school culture capable of encouraging and retaining educators by restoring the pride and joy of teaching.

This must-read will help build not only resilient schools but resilient communities."
"As I read my review copy of Building the Resilient School, the Covid-19 virus ravaged the physical and economic health of the U.S. and the world. Mandates for millions of Americans to stay at home compelled educators to act swiftly and creatively in sustaining academic and nonacademic support for their students during the international crisis.

The jarring shock of a global pandemic underscores the universal need for resilience and elevates Barr and Gibson's book from powerful to prophetic. Just as the character traits of resilient people can enable them to overcome obstacles and recover from setbacks, the cultural components of resilient schools can build hope, opportunity and agency in our communities and throughout our nation."
"Educators will appreciate Robert Barr and Emily Gibson's holistic and hopeful plan for confronting the growing epidemic of poverty in our schools and communities. They provide not only an insightful analysis of the multiple detrimental effects of poverty on both students and school staff but also a comprehensive framework for building resilient schools to overcome these detrimental effects. Building the Resilient School represents a "third wave" of educational reform that goes beyond the first wave of focusing narrowly on student achievement and the second wave of recognizing additionally the needs for social-emotional learning. Now, the third wave also addresses staff's relational and professional needs and establishes wraparound services for health, safety, and family/community engagement to equitably meet the holistic needs of all students, especially those in poverty."