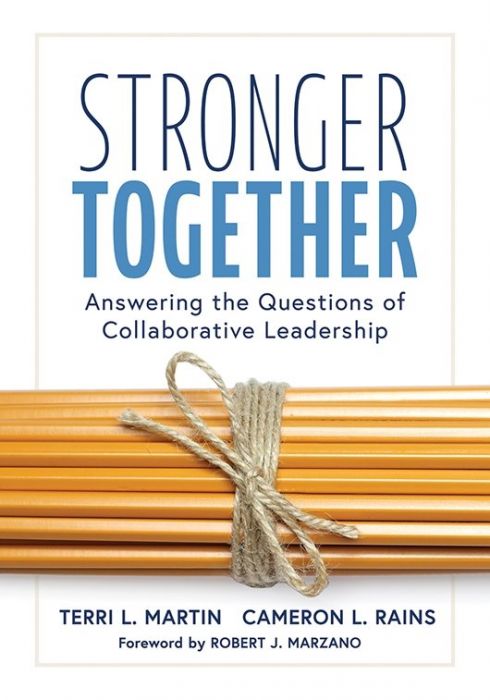 Answering the Questions of Collaborative Leadership
Foster leadership development and empower teams by understanding your own leadership style, engendering trust, supporting others, and implementing transparent communication. Improve student achievement and develop collaborative teams using various strategies.
A leader's guide to creating a culture of collaboration and transparent communication
What kind of leader am I? How do I best tap into others' skills? How do I build collaborative leadership teams? New and veteran leaders alike ask themselves these questions. Stronger Together will help you face your current reality and determine action steps for improvement. You will discover how to engender trust and empower teams, creating a culture of collaboration and, ultimately, improving student achievement.
Build a healthy culture of collaborative leadership in education:
Understand your own leadership style so you can play to your strengths and improve weaknesses.
Learn how to build the right kinds of collaborative teams and create common goals.
Use collaborative strategies to create a common vision statement and garner buy-in from team members using the elements of trust: integrity, empathy, and humility.
Develop ongoing transparent communication among school leadership, team members, faculty, parents, and students.
Related Topics
---
Additional Information
Product Code: BKF792
ISBN: 9781945349263
Published By: Solution Tree
Page Count: 120
"For any leader who believes in collaborative leadership, Stronger Together is a must for your team's development. I suggest this be done in the form of a book study with your team. The book is easy to read and follow. It provides step-by-step instructions on developing a culture of collaboration, with many reflective exercises. Moreover, the action steps will stimulate thought and professional growth that will lead to stronger and more effective teams. I will guarantee that students will ultimately benefit from the leadership teams' enculturation of the collaboration tenets clearly articulated in this book."
"Collaborative leadership is all about people. It only makes sense that people need to see others in action to make this work. I have seen Terri L. Martin and Cameron L. Rains in action. They walk the walk and talk the talk. I consider both highly effective collaborative leaders. In this book, they present valid research, shared experiences, and practical strategies from many years working in the field of education. This book should be a must-read for all administrators."
"Stronger Together is one of the most practical leadership books I have read in my thirty-seven-year career in education. You will find this book on my desk, marked with flags, as it is referenced each week throughout the school year. It has a get-the-work-done-right approach based in sound research. School leaders who use the plan in this book will find they are part of a positive, collaborative environment focused on what's best for students. This is a must-read!"