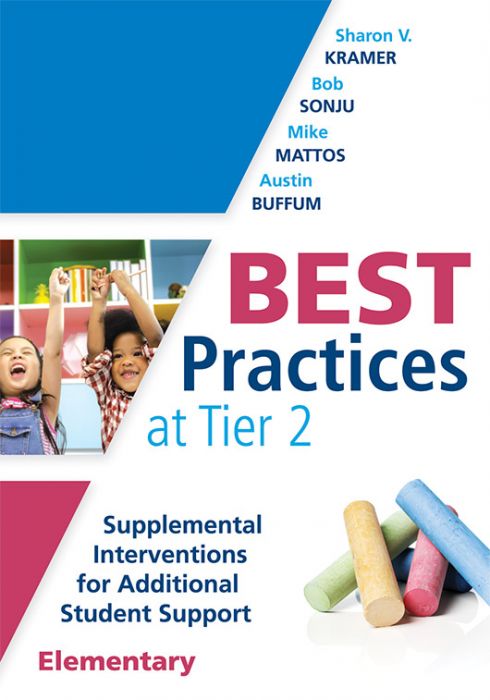 Supplemental Interventions for Additional Student Support, Elementary
Learn how to provide high-quality Tier 2 interventions to elementary students—without hiring additional staff or extending the school day. This RTI at Work resource contains best practices educators can use to provide differentiated instruction as part of a multitiered system of support (MTSS).
An RTI at Work guide for implementing Tier 2 interventions in elementary classrooms
Move away from the way we have always done things and embrace an improved approach to student intervention. At Tier 2 of the RTI at Work™ process, interventions do not require hiring additional staff, buying more resources, or extending the school day. Instead, this book offers a step-by-step process for how to use your current time and resources to ensure all students learn at high levels.
Use this resource to successfully respond to students when they do not learn:
Receive proven, practical strategies and tools for creating Tier 2 interventions.
Discover the foundational principles of effective educational practices.
Understand the roles of teacher, leadership, and intervention teams in the response to intervention (RTI) system.
Gain tips and best practices for determining student learning levels and how to move student learning forward.
Review structures and schedules that build time in the school day to support students who need interventions in an elementary education setting.
Related Topics
InstructionRTI at Work™Response to Intervention
---
Additional Information
Product Code: BKF714
ISBN: 9781942496823
Published By: Solution Tree
Page Count: 152
"Best Practices at Tier 2 takes the conversation around RTI to the next level. Not only does it offer effective, easy-to-use strategies to implement Tier 2 interventions and support, but it also includes examples of these practices at the school level. As a professional development leader, I especially liked the Big Ideas and Key Considerations Rubric at the end of each chapter. Using these tools with teams has been instrumental in our school moving our RTI implementation from teacher-centered to student-centered. I wholeheartedly endorse this book!"
"With the increase in virtual learning, never have high-functioning professional learning communities and well-planned, data-driven interventions been more critical. In Best Practices at Tier 2, Elementary, the authors carefully outline and detail a clear road map for how educators can do the important work of meeting the needs of all learners through strong, effective Tier 2 interventions and support."
"This book offers clear, concise action steps for schools and districts to consider on their journey toward effective RTI intervention systems, with a focus on Tier 2 support. It offers a comprehensive look at the prerequisite processes and structures that need to be in place in order to truly meet the needs of all learners."
"Best Practices at Tier 2, Elementary is a must-have resource for schools seeking to initiate, improve, or refine a Tier 2 system of support. This book moves beyond educational jargon and leads readers through an actionable and viable plan grounded in research and effective practice anchored in the work of collaborative teams and supported with practical strategies, real-world examples, and user-friendly tools."
"In Best Practices at Tier 2, Elementary, the authors highlight the need for a schoolwide, collaborative approach to RTI. They present the promise and urgent need to help struggling students using practical solutions, case studies, rubrics, and protocols to make Tier 2 interventions easy to implement. They stress the importance of allocating targeted time and revising schedules, addressing the right data for screening and progress monitoring, and shifting the school culture paradigm from your kids to our kids—to ensure all students have the opportunity to learn at high levels."