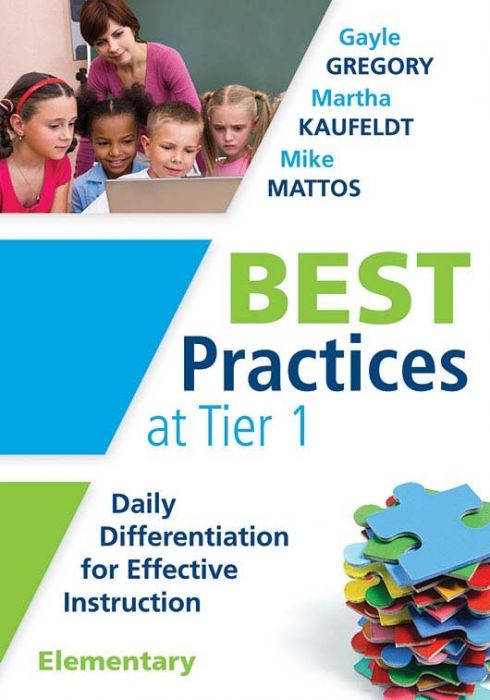 Daily Differentiation for Effective Instruction, Elementary
Discover proven response to intervention strategies to enhance core instruction in grades K–5, including differentiating instruction, engaging students, increasing success, and avoiding additional interventions.
Publication date:
Only %1 left
Best Practices at Tier 1
Improve core instruction to ensure learning for all. Created specifically for K–5 educators, this book provides proven response to intervention strategies to differentiate instruction, engage students, increase success, and avoid additional interventions. Discover how to identify essential power standards to include in Tier 1 instruction, create a brain-friendly learning environment, shift instructional processes to support collaboration, and more.
Understand the power of RTI to enhance core instruction and provide timely, targeted, and systematic interventions for students in need.
Gain effective strategies to differentiate learning, and understand the variety of ways students learn.
Incorporate the four Cs—communication, collaboration, creativity, and critical thinking—into curriculum design.
Shift from teacher-centered to student-centered instruction to enhance learning.
Use formative assessment and preassessment to plan for instruction and extend learning tasks when necessary.
Raise the bar for all learners by enhancing rigor and providing learners opportunities to grow.
Related Topics
InstructionRTI at Work™Response to Intervention
---
Additional Information
Product Code: BKF650,EKF259
ISBN: 9781936763931
Published By: Solution Tree
Page Count: 248
"The quality of daily differentiated instruction that students receive in the Tier 1 grade-level program may be the single most important factor in impacting student achievement. Authors Gayle Gregory, Martha Kaufeldt, and Mike Mattos combine educational research with practice to describe the influence of collaborative teams, classroom climate, student strengths, essential standards, assessment and feedback, tiered instruction, authentic tasks, problem solving, and high-level thinking in the core instructional program. Through their student-centered examples and models, the authors allow readers to self-reflect on their own practices and formulate action steps toward continuous progress on the educational journey."
"Administrators, instructional coaches, and teachers will find this well-researched go-to book packed with examples, criteria lists, templates, and illustrations to support RTI with best practices in teaching and learning. Throughout the book, the authors emphasizeand emphasize againthe essential understanding that students are stakeholders who must partner in identifying their own learning preferences and needs. Giving students more ownership of their academic experiences in schools and designing instruction that encourages and respects self-regulation of learning are common threads throughout the book. Gregory, Kaufeldt, and Mattos create a cohesive, timely tool that can guide educators as they engage with diverse learners in classrooms everywhere."
"Here's a book of proven strategies! I know you will find it a practical and useful guide, perfect for personal self-study or group staff development. The authors have provided a road map to implementing what we as teachers all want to achieve a process which ensures every student learns at high levels. They do that by stepping you through how to combine RTI Tier 1 ideas, differentiated instruction, the art and science of teaching, along with other essential strategies. The road map will change your mindset with specific tools and techniques for implementing the ideas and processes described in every chapter. This is not groundbreaking research but rather offers common sense and well-established practices to help students get to successful outcomes."
Free Resources
Explore these powerful tools to help reach your goals.