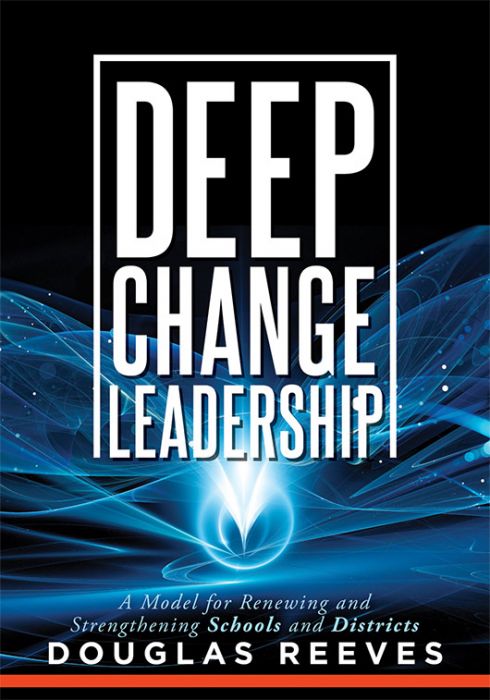 Change efforts often fail to meet their desired ends. Learn how to make a real, sustainable impact with Deep Change Leadership. This school leadership resource highlights engagement, inquiry, and focused action as part of an effective leadership model.
Publication date:
Only %1 left
A resource for effective school leadership and change efforts
As 21st century educators grapple with new and unprecedented challenges, schools and districts require a model of change leadership that responds to shifting environmental realities. Deep Change Leadership aims to give leaders pragmatic ways to spark change in education. Author Douglas Reeves offers up a model that departs from traditionally held beliefs and instead embraces engagement, inquiry, and focused action.
Explore the principal impediments to effective change leadership, including fragmentation and the myth of universal buy-in.
Learn the means by which you can gauge your and your school's or district's readiness for change.
Study the characteristics of deep change leadership, which involves deciding what does not change, supplementing passion with purpose, and narrowing your focus.
Discover how to make sound course corrections and avoid mistakes in change leadership.
Understand real results in terms of both outcomes and causes.
Related Topics
---
Additional Information
Product Code: BKF935, EKF498
ISBN: 9781952812071
Published By: Solution Tree
"Change and improvement are forever connected, which creates a great challenge for organizational leaders. In this book, Dr. Reeves takes the reader on an intellectual journey from the research foundation of change leadership to the fierce challenges of implementing change in the current educational climate. This book will leave the reader with a thorough yet sobering view of the real scope of effective change leadership."
"The more insights Doug Reeves gets about education change, the more concise he becomes. With crystal clarity, Reeves lays out the components and flow of complex change. He picks up every nuance, from distinguishing between skeptics and cynics to being aware of the myth of buy-in. Build your knowledge and your team, and get deep change while staying alert for the path ahead."
"The central question for postpandemic schools is whether they return to an old or a new normal. In this book, Reeves provides thoughtful—and forceful—advice on putting the lessons of recent research and experience to work. Among them: leaders painting a vivid picture of a brighter future, developing a theory of action around a few proven initiatives, getting quick wins, and building support with real results for students. Reeves is also clear about what will happen if we don't follow these steps—more mediocre teaching and a widening achievement gap."
"Though we have instant access to research, evidence of innovative best practice, and boundless communication technology, the process of leading deep systemic change remains a slog. In Deep Change Leadership, Reeves replaces the decades-old change engine with one that is fuel injected and built to support leaders in bringing forth the best version of every adult stakeholder in the schoolhouse. Once accomplished, improved student learning will take care of itself."