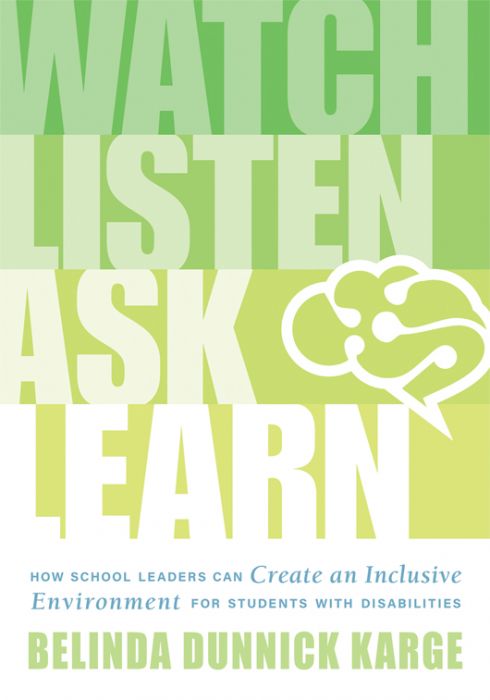 Watch, Listen, Ask, Learn
How School Leaders Can Create an Inclusive Environment for Students With Disabilities
Whether you're a superintendent or general education teacher leader, you can use this book to support inclusive education. Author Belinda Dunnick Karge offers research-based practices for implementing effective learning services based on sound knowledge of law and multitiered systems of supports (MTSS).
Publication date:
Only %1 left
An essential guide for all education leaders to navigate the complexities of special education
This is your comprehensive resource on providing effective special education services in your school. Written for current and aspiring administrators and teacher leaders, the book offers action items, case studies, and reproducible tools to help you stay in front of special education law, know and support your learning services team, and ensure students with disabilities receive equitable, inclusive education.
This book will help district administrators, building leaders, and general and special education teachers:
Understand legal regulations and policy surrounding special education
Think ahead, be proactive, and set up supports for each student
Discover a variety of special education service delivery models and practices
Know how to best support the paraeducators, speech and language specialists, therapists, and other essential staff who comprise their learning services team
Build and sustain strong parent and community support
Utilize an effective MTSS model that includes academics, behavior, and mental health
Embrace the challenge to remain professional learners, whether they're veteran educators or just starting out
Related Topics
---
Additional Information
Product Code: BKG080, EKF625
ISBN: 9781954631298
Published By: Solution Tree
"Belinda Karge has done an excellent job writing a comprehensive, comprehensible resource for special education. Her attention to the legal and pedagogical aspects of serving students receiving special education services and their families makes her book valuable for individuals in a variety of roles. This book provides an important contribution in its efforts to help special education leaders and advocates—including parents—understand their shared responsibilities to one another and to the children who qualify for services currently or may qualify after evaluation."
"Educational equity is more than the latest buzzword. If we truly believe that all students can learn at high levels, then it is essential that we provide each student with equitable access to learning. This resource provides a wealth of information and tools to aid in supporting leaders to make this a reality within their schools. Often, leaders are not as well-versed in the laws and regulations governing special education as other areas. Having the ability to have this quick reference at hand will be very beneficial."