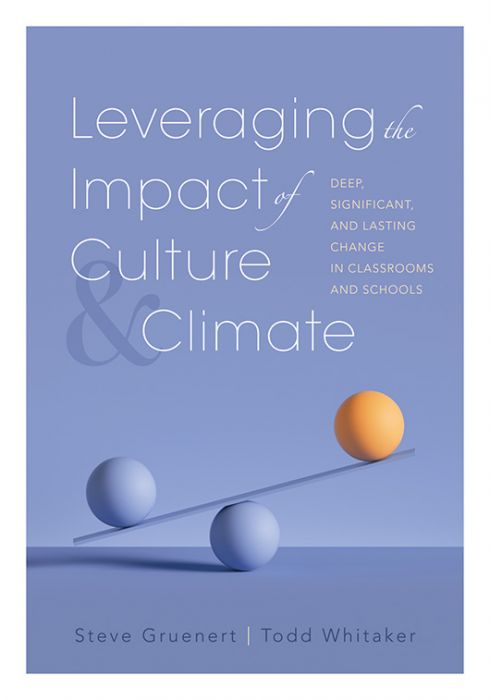 Leveraging the Impact of Culture and Climate
Deep, Significant, and Lasting Change in Classrooms and Schools
Create a positive, collaborative culture that drives school improvement. By improving your school culture and climate, leaders can drive deep change, transform schools, and achieve high levels of learning for all.
Add this eBook to your credit card purchase and gain immediate access.
eBooks are available on desktop, Android, and iOS via Adobe Digital Editions. eBook purchases are limited to one eBook per title, per account. Please visit the eBook FAQ for more information.
Publication date:
Only %1 left
Leveraging the Impact of Culture and Climate
Together, culture and climate can make or break your school improvement efforts. Authors Todd Whitaker and Steve Gruenert help educators understand how to leverage culture and climate to drive deep and lasting change. Learn how to assess current culture, address climate issues, combat challenges, and work toward a collaborative school community dedicated to achieving high levels of learning for all.
Rely on this book's effective school improvement strategies for creating a collaborative culture in schools:
Understand the commonalities and differences between school climate and school culture.
Identify the characteristics of specific types of classroom cultures for self-assessment and improvement in creating a positive classroom climate.
Learn how to assess the values and beliefs of educators at the classroom and school levels.
Discover your school's capacity for culture change using a step-by-step process.
Consider how the elements of climate and culture influence school effectiveness and school improvement efforts.
Related Topics
Classroom Management & BehaviorLeadershipSchool Improvement
---
Additional Information
Product Code: BKG040, EKF602
ISBN: 9781952812897
Published By: Solution Tree
"Leveraging the Impact of Culture and Climate adds essential new insights into the complicated and powerful world of school culture and climate. The authors help educators understand that every school and classroom is swimming in a rich stew of culture and climate and recognize the challenges involved with changing it to promote school improvement. This timely book helps educators navigate this slippery stew in their schools and classrooms to maximize positive student impact. It is filled with wonderful, real-life scenarios that take the discussion from the theoretical right down to what to do tomorrow to make a positive change."
"The impact of culture and climate on school-improvement efforts cannot be overstated. In Leveraging the Impact of Culture and Climate, Steven Gruenert and Todd Whitaker emphasize how culture and climate define and impact school and classroom struggles and successes. They connect years of research with useful tools to help educators recognize, understand, and improve culture and climate in their schools and classrooms."
"With Leveraging the Impact of Culture and Climate, authors Steven Gruenert and Todd Whitaker offer a bold and unusually deep examination of school culture and climate. Any education leader will benefit from this paradoxically easy-to-read yet challenging exploration of the personality (culture) and attitude (climate) of schools and classrooms. Written in an approachable tone, the content leads readers to confront common misperceptions about school climate and culture and how to leverage them to promote school improvement."
"Leveraging the Impact of Culture and Climate is a must-have book for any district, school, or teacher leader who understands the impact of culture and climate on students' academic success. The authors outline the difference between the two concepts and provide practical steps on how to build and nurture both. Whether you are a new leader who is promoting change, or a veteran leader who wants to ensure your strong culture and climate don't dissipate, you will find this book's practical tools and activities to be immediately useful. I can't wait to share this book with the leaders in my district!"