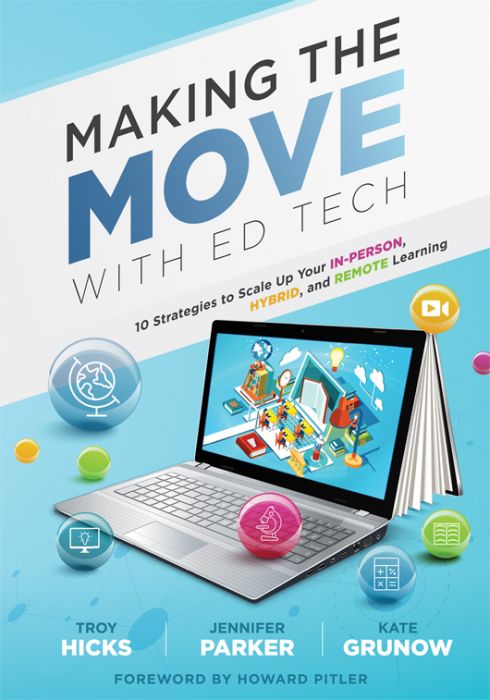 Making the Move With Ed Tech
Ten Strategies to Scale Up Your In-Person, Hybrid, and Remote Learning
Discover how to integrate technology in the classroom by adapting ten strategies that facilitate creativity and critical thinking and increase student engagement. This research-based resource is a practical tool you can keep close at hand to help you be intentional with ed tech and strengthen your teaching practice.
Learn how to strategically employ ed technology tools and integrate technology in the classroom
Countless technology tools are available to teachers and coaches, but integrating technology in the classroom in a purposeful way is challenging. In this book, the authors cut through ed-tech jargon and frameworks to help you employ ed-tech tools strategically. Explore moves, or instructional strategies, both familiar and new, that facilitate student inquiry, dialogue, critical thinking, and creativity.
This book will help K–12 teachers, principals, and instructional technology coaches:
Improve their understanding of ed-tech tools and frameworks
Explore both familiar and new instructional strategies or moves
Learn to employ educational technology tools in the service of instructional strategies
Align instructional strategies with new tools and with International Society for Technology in Education (ISTE) Standards for Students and Educators
Apply strategies and tools across learning modalities, including in-person, remote, and hybrid learning
A joint publication of ISTE and Solution Tree
Related Topics
21st Century SkillsInstructionTechnology
---
Additional Information
Product Code: BKG101
ISBN: 9781954631717
Published By: Solution Tree
"This book is the perfect resource for teachers who want to learn how to use technology to support, enhance, and enrich learning in and across different environments, including in-person, online, and remote settings. The authors present instructional moves that, when combined with technology, can transform the way learning happens in any subject and grade level."
"This book does a great job grounding readers in the research and concepts of ed tech while providing real-world strategies educators can apply right away. You can feel the authors speaking to you, not at you, in this thoughtful guide to how technology tools are applied in the modern classroom."
"In this book, Troy Hicks, Jennifer Parker, and Kate Grunow take the mystique out of how to engage students in meaningful learning opportunities, utilizing research-based strategies and layering the tools of the digital age over them. Their expertise helps educators understand how to make the most of the moves in the classroom."