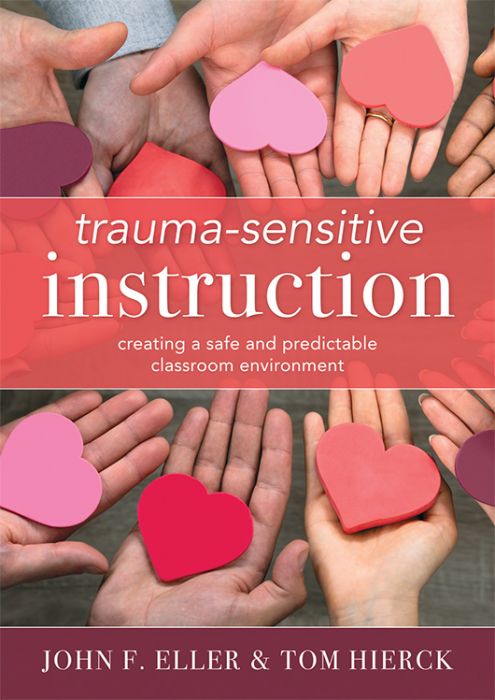 Trauma-Sensitive Instruction
Creating a Safe and Predictable Classroom Environment
Create safe classrooms where students are empowered to build resilience, cope with traumatic experiences, and achieve at high levels. Learn how to cultivate a trauma-informed classroom environment and utilize classroom management strategies to encourage positive learning experiences for trauma-impacted students.
Publication date:
Only %1 left
Strategies to support trauma-impacted students and create a positive classroom environment
The impact of trauma on learning can be significant and long lasting. Learn how you can confidently and meaningfully support your trauma-impacted students and foster trauma-informed schools with this accessible resource. The authors draw from their personal and professional experiences with trauma, mental health, and school culture to provide real insight into what you can do now to help learners build resilience, cope with adverse situations, and achieve at high levels.
Implement trauma-informed teaching practices and cultivate a classroom environment that encourages positive learning experiences:
Understand childhood trauma and the impact traumatic experiences have on learners.
Develop a trauma-informed attitude and mindset.
Examine classroom structures that support trauma-sensitive practices while recognizing those that may contribute to trauma.
Gain effective classroom management strategies and techniques to support all students, including those experiencing trauma.
Learn how to develop trusting and positive relationships with trauma-impacted students and their families.
Related Topics
Classroom Management & BehaviorInstructionSocial-Emotional LearningViolence & Crisis Prevention
---
Additional Information
Product Code: BKF847, EKF440
ISBN: 9781949539950
Published By: Solution Tree
"[Trauma-Sensitive Instruction] is hands down the most comprehensive work I've seen for educators! I find every page useful and captivating! You placed so much material on each page—the real-world examples were easy to follow and transfer to actual events we see in classrooms. I was so glad to see the portion of neuroscience for those who want to know more about the function of the brain."
"In a practical yet powerful way, John Eller and Tom Hierck provide a clear understanding of the impact of trauma and the strategies we can use in our schools and classrooms to change a student's trajectory in life. From their use of school-based scenarios to the reflection questions at the end of each chapter, the authors present the best practices educators need to ensure that not only students from traumatic backgrounds but all students are able to become their best selves."
"As the prevalence of childhood trauma and mental health challenges continue to grow in our classrooms, Trauma-Sensitive Instruction is a must-have resource for all educators. Childhood trauma that goes unresolved will undoubtedly impact a student's ability to focus and learn. The tools, techniques, and strategies in this book will help educators create the emotional safety and conditions necessary for students to thrive in every classroom."
"Trauma-Sensitive Instruction is a must read for every staff member in schools. This reader-friendly guide offers real-life examples and simple strategies that will enhance your practice as a teacher and have a positive impact on all students. The authors' knowledge of the impact of trauma and their experiences in education reinforce that when we focus on the needs of individuals, every student can achieve learning at high levels. The quote that resonates with me daily is, 'The students who challenge us the most, need us the most.'"
"In Trauma-Sensitive Instruction, authors John Eller and Tom Hierck provide educators with a resource that addresses many important, complex issues educators handle in the classroom on a daily basis. Acknowledging the time constraints all teachers face, this resource will help them make their classrooms more welcoming not only for students that have encountered trauma but for all students. This is a must read for any educator who is committed to making his or her classroom a safe place where all students can learn."
"In Trauma-Sensitive Instruction, John Eller and Tom Hierck equip teachers with the knowledge and skills to understand trauma in children and the impacts it has on their learning. By providing real-life examples from their own experiences and the knowledge acquired in their years as leaders and educators, they provide detailed strategies for how to support trauma-impacted students that can be implemented immediately. This will be my go-to resource when facing student behavior challenges to help build positive relationships."
"Creating a safe and predictable classroom environment has never been more important than in the post-pandemic period we are about to enter. Full of practical guidance, strategies, and tools, Trauma-Sensitive Instruction by John Eller and Tom Hierck, is an invaluable resource for educators at all levels as they prepare to meet the needs of traumatized students. The strategies and tools they offer take trauma-informed instruction to the next level and create a learning experience based on whole-child success."
"[Trauma-Sensitive Instruction] has been an enlightening read as a teacher and also personally—not myself but other family members. I wish this book had been written, and that trauma-sensitive instruction practices had been in schools, way back when. I also think this book should be required reading in any teacher training program."