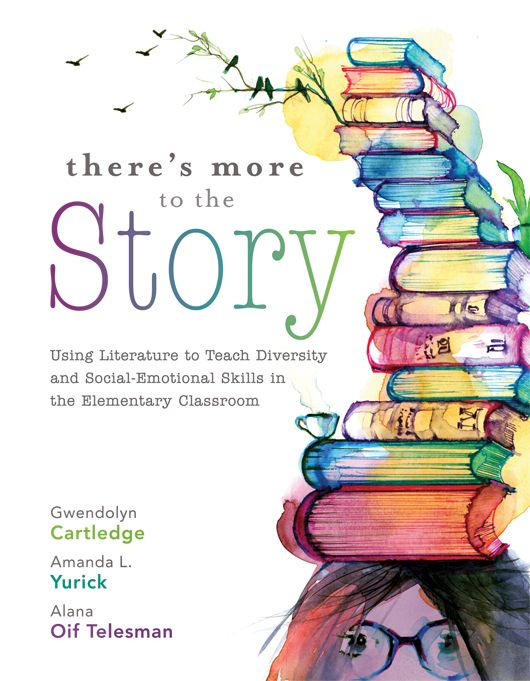 There's More to the Story
Using Literature to Teach Diversity and Social-Emotional Skills in the Elementary Classroom
In this valuable resource, the authors share recommendations for diverse, culturally relevant, quality children's literature that explores important aspects of social-emotional learning. In each chapter, book suggestions are paired with activities that promote positive self-reflection and compassionate action toward others.
Publication date:
Only %1 left
There's More to the Story
Introduce diversity and social-emotional learning to elementary students through a wide array of culturally relevant, quality children's literature. This valuable resource shares recommendations for books that explore race, ethnicity, gender, (dis)ability, religion, and more. The authors pair activities with book suggestions to promote healthy self-affirmation, self-assertion, and conflict resolution so students learn how their actions impact others.
Gain a basic understanding of social-emotional learning and concepts.
Discover why literature is an effective tool for conveying diversity issues and social-emotional concepts.
Engage young students with literature and activities to help them understand complex issues.
Integrate literature from a vast array of diverse groups into classroom learning to broaden cultural understanding.
Create an environment in which students can learn, process, and celebrate cultural differences.
Related Topics
Diversity & EquityInstructionSocial-Emotional Learning
---
Additional Information
Product Code: BKG029, EKF591
ISBN: 9781952812675
Published By: Solution Tree
"There's More to the Story is an essential read for elementary educators. Authors Cartledge, Yurick, and Oif Telesman guide teachers on how to positively address the complex issues of diversity and social-emotional development of young children using quality literature. Through practical strategies and creative activities, they offer guidance on how to teach critical social skills that build classroom harmony and equip students to foster positive relationships through caring, empathy, assertiveness, and problem solving while learning to appreciate their differences and see each other's humanity."
"In There's More to the Story, the authors do a tremendous job using children's literature to discuss diversity, equity, and inclusion to meet the needs of a rapidly changing and diverse student population. This book is not only timely but a much-needed resource for teachers and adults working with children in building strong social-emotional skills in areas such as race, ethnicity, poverty, (dis)ability, religion, and more. The book is organized into distinct skill sets with readily-available lesson ideas, tools, and reproducibles for extending student learning beyond the literature."
"In There's More to the Story, Cartledge, Yurick, and Oif Telesman offer a research-based, clearly articulated rationale and strategies for teaching essential social skills (such as affirming others and self, asserting self, responding to aggression and conflict) within culturally diverse contexts, such as race, ethnicity, gender, poverty, and religion. I particularly appreciate the concrete and easy-to-follow steps for how to introduce each book, discuss the story concepts, engage students in enactments and real-life applications, and offer extended literature activities to further promote skill maintenance and generalization. This is a must-have resource book for elementary teachers!"
"Providing a new paradigm to support students' social-emotional well-being, There's More to the Story should be a part of every educator's toolkit. This valuable resource offers an approach to student development using children's literature as the foundation. The authors bring research and practice together through evidence-informed activities educators can immediately implement in any elementary classroom. Schools are continuously seeking ways to make learning relevant and authentic; this book offers essential links to academic and social-emotional development in exciting and beneficial ways to help students thrive in the world around them."
"There's More to the Story is a practical and educator-friendly resource that provides insights and research-based strategies to address students' social-emotional needs while ensuring they see representations of themselves and value the diversity of their peers. The text also provides educators with the opportunity to reflect on their own values and bias to improve their instructional practice. I highly encourage using this text to continue to address the growing social-emotional needs of students impacted by the worldwide pandemic and evolving social climate."
"As an elementary principal, I am very excited about the potential that the book, There's More to the Story, will have on social-emotional learning at the elementary level. This book is the perfect resource to assist elementary teachers in building social-emotional skills in the classroom. The combination of culturally diverse literature and lessons based on critical skills are exactly what teachers need to effectively build the social-emotional capacity of their students. The book is easy to navigate, offering multiple methods of teaching and reinforcing essential skills through a focus on diversity, equity, and inclusion. This timely book has the potential to positively impact the future of our students."