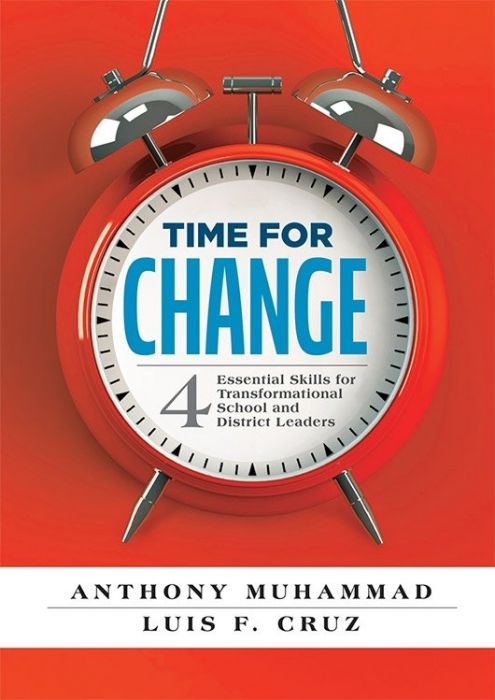 Time for Change
Four Essential Skills for Transformational School and District Leaders
Discover how to develop and strengthen the four essential skills of effective educational leaders. Inspire a shared vision of strategic change and overcome resistance through strong communication, trust building, empowerment of those you lead, and a focus on results.
Publication date:
Only %1 left
Educational leadership development for change management
Authors Luis F. Cruz and Anthony Muhammad share how Time for Change will help you overcome challenges and successfully lead change initiatives in your school or district.
Transformational leaders have four distinctive skills: strong communication, the ability to build trust, the ability to increase the skills of those they lead, and a results orientation. Time for Change offers powerful guidance for those seeking to develop and strengthen the educational leadership skills needed for change management and overcoming resistance to change. Throughout this authoritative guide, Anthony Muhammad and Luis F. Cruz share concrete tools and strategies that will prepare you to lead your school toward lasting, meaningful, and strategic change.
Use this educational leadership book to inspire a shared vision and help in overcoming resistance to change:
Develop an understanding of educational leadership and change management as skills that can be practiced and improved.
Consider three questions of transformational leadership—Why? Who? How?—and then Do!
Learn about the technical and cultural dimensions of change and the ways in which both must be addressed.
Understand the reasons behind resistance to change and how to manage it through effective leadership.
Synthesize your skills as a school leader and utilize them to effect strategic change.
Related Topics
LeadershipProfessional Learning Communities at Work®Professional Learning CommunitiesSchool Improvement
---
Additional Information
Product Code: BKF683,EKF291
ISBN: 9781942496151
Published By: Solution Tree
Page Count: 152
"Muhammad and Cruz offer a seminal book that not only inspires leaders to take action but also advances the strategies and approaches necessary to achieve transformational outcomes. A must-read book for any current or aspiring educational leader."
"Time for Change is a must-read for all educational leaders. This book is a blueprint for transforming school cultures and, most importantly, for changing student lives."
"Time for Change provides insightful and compelling practices that support the complexities of system and organizational change as well as transformational leadership."
"Leaders can use this book to inspire and motivate teams and guide and facilitate effective change at the site level in a way that has never been seen before."
"Authentic and compelling, this book will stimulate the challenging conversations that every leadership team must have. Leaders at every level will benefit from the insights and practical ideas in these pages."
"Occasionally, a book comes along that merges both theory and practice. Muhammad and Cruz's Time for Change: Four Essential Skills for Transformational School and District Leaders is such a book. They combine decades of leadership and change theory with the practical experience that comes from their own highly successful track record in leading both structural and cultural change in their own school settings."