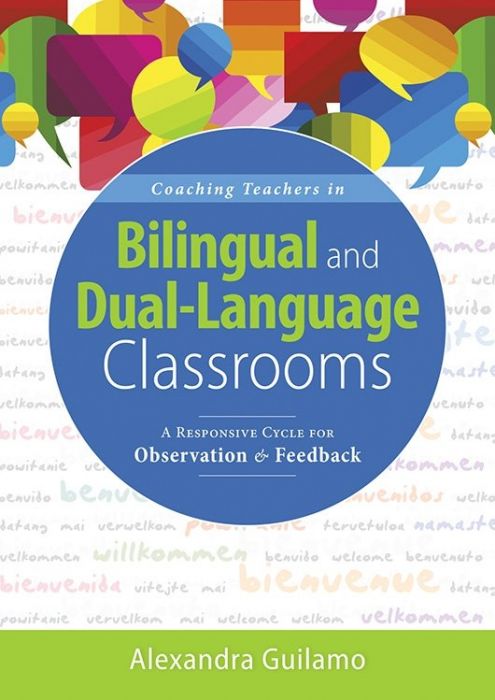 Coaching Teachers in Bilingual and Dual-Language Classrooms
A Responsive Cycle for Observation and Feedback
Develop instructional coaching specific to bilingual education to support dual-language learners. Discover a proven process for an effective observation and feedback cycle to coach bilingual teachers and dual-language classrooms.
Dual-language instructional coaching for bilingual teachers and classrooms
Gain the skills you need to coach teachers in bilingual and dual-language classrooms. In this practical guide, you will discover a proven process for creating a fair and effective observation and feedback cycle to help support bilingual teachers in this important work. Author Alexandra Guilamo offers pertinent coaching theory and accessible coaching strategies sourced directly from her firsthand experiences in dual-language education.
Use this bilingual education book to guide your instructional coaching:
Explore the dual-language programs currently used in classrooms and schools and their unique qualities and benefits.
Learn the seven essential elements of an effective coaching and feedback cycle.
Gain best practices you can utilize in your work as a coach and observer of dual-language teachers.
Study the characteristics of high-quality feedback.
Receive answers to frequently asked questions on dual-language instruction.
Related Topics
Diversity & EquityEnglish Learners
---
Additional Information
Product Code: BKF918
ISBN: 9781949539233
Published By: Solution Tree
Page Count: 152
"In this urban call to action, Alexandra Guilamo transforms aspiration into action. If we wish to unleash the potential of every student, we must commit to understanding them before asking them to understand us. This is not merely a matter of language, Guilamo argues, but of culture. The practical guidelines in this book will help coaches, teachers, and administrators improve not only the quality of instruction but also the climate of respect and safety bilingual and dual-language students and teachers deserve."
"Alexandra Guilamo's new book, Coaching Teachers in Bilingual and Dual-Language Classrooms, changes the game for educators who are charged to serve language learners in US classrooms. By clearly delineating a coaching and feedback cycle that aligns with the latest research and recommendations in serving emergent bilingual and dual-language students, educators and school leaders now have a road map that can guide their journey as biliteracy instructional coaches."