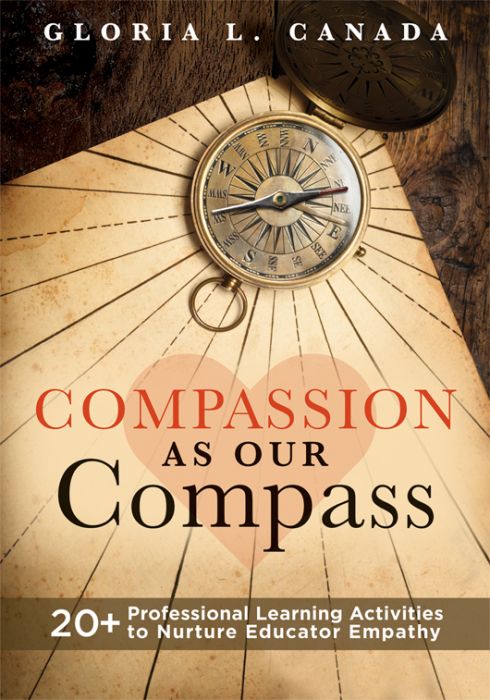 Compassion as Our Compass
20+ Professional Learning Activities to Nurture Educator Empathy
This book demonstrates how to intentionally teach compassion. It guides teachers, leaders, administrators, counselors and school social workers on how to build strong, supportive relationships with students and each other. With helpful insights and activities, cultivating compassion, empathy, and inclusion can happen for all.
The supportive, empathy-building guide that brings compassion to the forefront of classrooms
Thoughtfully addressing students' varying needs and perspectives in a meaningful way is challenging. By intentionally incorporating best practices, educators learn to facilitate honest dialogue, cultivate inclusion, build trust, and form a sense of emotional safety for students. Using field-tested, research-backed activities, Gloria L. Canada provides strategies, personal stories, and lessons learned to help educators create a compassionate, empathetic school culture.
This book will help K–12 administrators, teacher leaders, and counselors:
Transition the professional learning lessons into lessons or activities educators can use with students
Address the importance of building connections with students to foster a sense of trust and safety
Examine the various roles educators play and ways they are called on to step up to build student rapport
Gain explicit directions and materials lists for facilitating activities that focus on bringing compassion to the forefront
Learn the challenges that high-mobility students face and the ways educators can be mindful of and address those unique challenges
Related Topics
LeadershipSocial-Emotional LearningTeacher Efficacy
---
Additional Information
Product Code: BKG128
ISBN: 9781958590270
Published By: Solution Tree
"We've always known that each student in our classroom is different, yet often we ignore this reality. Dr. Gloria Canada's latest book, Compassion as Our Compass, provides educators with tools to be in touch with our empathy and be able to reach every student in the classroom. All students are unique and different, and the only way that all students can learn is if we intentionally practice compassion to build strong relationships with them. This book provides the entry point to regaining and cultivating compassion, empathy, and inclusion. Compassion as Our Compass provides strategies to work with all students in our classrooms, as educator Dr. Canada reminds us of our duty to not only believe in and act on our capacity for compassion . . . but to believe in and support the capacity for all children to learn and belong."
"Since the COVID pandemic, an overwhelming amount of research has raised concerns about the mental health and wellness of today's students. Dr. Canada's book, Compassion as Our Compass, stresses the importance of interacting with students with empathy and compassion in order to address a student's emotional needs. While I think most people who enter the teaching profession (or anyone who chooses to work with children), fully intend to interact with the children in their charge with empathy and compassion, many do not quite understand how to navigate the challenges so many of our youth are encountering in today's world.

Dr. Canada's book provides an excellent guide for readers to understand how to effectively interact with students with compassion and empathy. She not only provides vignettes that are very real, but also includes a variety of excellent activities for the adults. These activities include group, individual, and reflection activities so that after reading the book, the reader is more skilled at interacting with students who are facing difficulties.

I would recommend this book to principals who are looking to provide student wellness staff development for their faculties, professional learning communities (PLCs) who are tackling academic growth for struggling students, or individuals who are looking for ways to better connect with the disengaged student. An excellent, worthwhile read!"
"I read this book through several lenses: as a former principal, as a curriculum specialist, and as parent. Each chapter offers step-by-step processes, reflective questions, reproducible charts, and activities. As I read each chapter, I thought, 'Where was this book as I was dealing with students, when I was working with teachers, and when I was coping with parent issues?' What a treasure trove of useful information regardless of one's role. The information is very timely and extremely relevant."