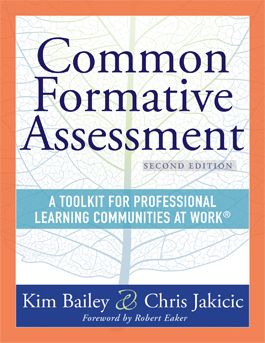 Common Formative Assessment, Second Edition
A Toolkit for Professional Learning Communities at Work®
This book will help collaborative teams meet the challenges of a new landscape of education—one in which we're now familiar with formative assessment and we strive to improve our assessment design and allow data to inform instruction to best support student achievement.
Harness the power of common formative assessment to nurture student engagement and achievement
In the second edition of this pivotal work by Kim Bailey and Chris Jakicic, you will discover updated and improved resources to use formative data to support higher levels of student learning. Data-driven techniques and new tools will guide you in improving collaboration and student engagement throughout the assessment process. Teams can use the ideas, templates, and protocols in this practitioner-friendly resource.
K–12 educators will:
Identify successful assessment tools for implementation
Understand the role of assessments in advancing student learning
Reflect on assessment processes and the standards driving instruction
Access a wide variety of assessment designs and strategies for guiding collaboration
Utilize data-driven jump-start resources and templates that suit their teams' needs
Related Topics
AssessmentProfessional Learning Communities at Work®Professional Learning Communities
---
Additional Information
Product Code: BKG097
ISBN: 9781954631632
"This is a book by practitioners, for practitioners . . . [It] answers the why and the how of using common formative assessments; the only question that remains for teachers is 'Why not?'"
"Very few practices accelerate student learning more than meaningful formative assessment. Bailey and Jakicic provide a comprehensive, coherent approach to improving assessment practices that deepens understanding for veteran educators and demystifies the process for novices. There is a flawless connection between research and practice, which has the potential to improve practice immediately. There are few books that I recommend for every educator; this book is one."
"Just when I thought Common Formative Assessment couldn't get any better, Bailey and Jakicic have taken the second edition to an even higher level of excellence. Their practical tools bring the concepts to life for teams. This is a must-have resource for every educator committed to making sure all students learn!"
"If you have been looking for a one-stop shop for your professional learning community needs, look no further! In my Model PLC at Work school, this resource is the go-to guide for collaborative teamwork. Schools can expect to utilize the tools in this book for many years to come as they help transform the world of education."
"Bailey and Jakicic have done it again! Every district's instructional coordinator, school-level administrator, teacher, and instructional coach needs this resource. The authors break down PLC at Work practices into simple terms and doable steps, providing clarity using scenarios and ways to stay focused on the right work. This second edition delivers all the tools schools need to implement a strong and comprehensive assessment system. It also provides tools for administrators to use to support teams to remain focused on collaborative work and improve learning outcomes for all students. This is a must-have resource for every faculty and staff."