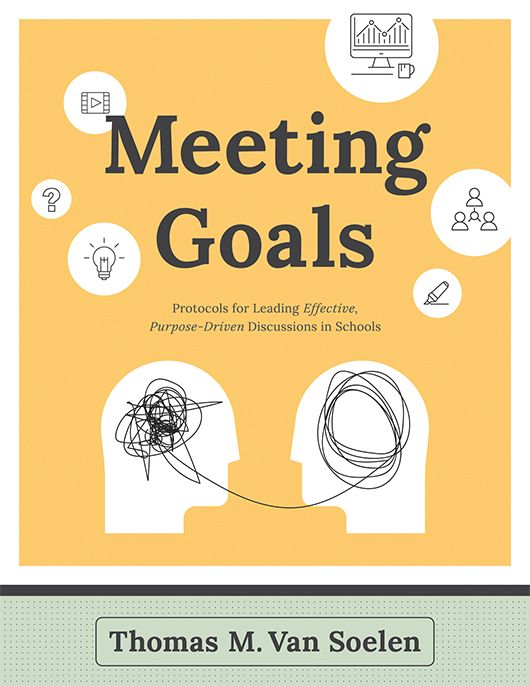 Protocols for Leading Effective, Purpose-Driven Discussions in Schools
Learn how you can lead highly productive, structured discussions in your school or district with Meeting Goals.
Publication date:
Only %1 left
Meeting Goals
When used effectively, discussion protocols have the power to help educators cultivate highly impactful, collaborative spaces. Learn how you can lead structured and productive discussions in your own learning community with Meeting Goals. The author provides scaffolds for frequently used protocols as well as examples of protocol application. Both new and veteran educators can rely on this resource to help them facilitate constructive meetings and, as a group, catalyze great work.
Improve your group facilitation skills and expertise.
Enhance instructional coaching and feedback for teachers and teacher groups through meaningful protocols.
Study detailed instructions and scaffolds for specific protocols to meet clear, desired outcomes of collaboration.
Experience more moments of connection and transformation in groups with effective leadership and a purpose-driven agenda.
Examine specific language, practical situations, and clarifying questions for implementing discussion protocols.
Related Topics
---
Additional Information
Product Code: BKF986, EKF549
ISBN: 9781951075736
Published By: Solution Tree
"Using metaphor, humor, and a deep belief in the power of collaborative professional work, Thomas Van Soelen pulls back the curtain on highly effective facilitation. Chock-full of value for facilitators of all experience levels, Meeting Goals is sure to become a foundational text for meeting facilitators and professional developers alike."
"Van Soelen provides fresh insights, sound advice, and practical strategies for leading impactful discussions based on his wealth of experience in utilizing protocols in schools. This is an important resource for any educator who aspires to focus teachers' collaborations on instructional improvement for the ultimate purpose of improving outcomes for all students."
"This important book takes readers under the hood of education's most powerful conversation protocols and demystifies the component parts, allowing readers to more capably and confidently match or modify a protocol for the dilemmas and daily work in front of them. With this book, educators will be able to skillfully facilitate the critical conversations our students need us to be having in today's schools."