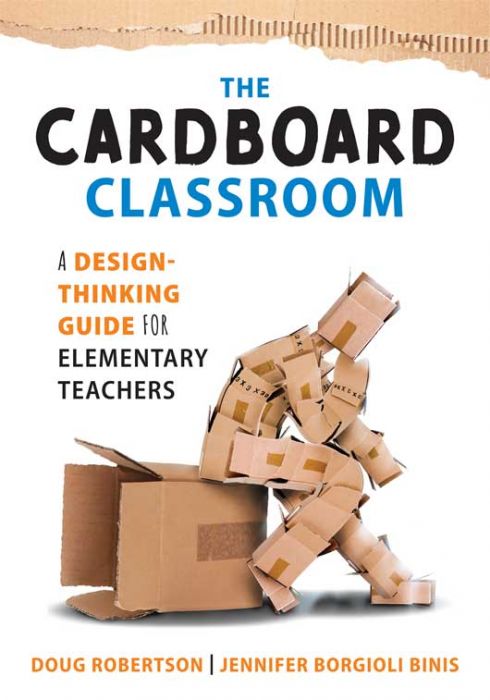 A Design-Thinking Guide for Elementary Teachers
How can elementary educators create a learning environment that is conducive to creativity, critical thinking, and student ownership of learning? By implementing design-minded real life examples in the classroom. All while achieving positive student learning outcomes.
Publication date:
Only %1 left
The best educators' resource for design thinking with comprehensive examples
A design-minded teacher facilitates learning that is flexible, creative, and collaborative—with a healthy mix of critical thinking, trial and error, failure, and success. In The Cardboard Classroom, authors Doug Robertson and Jennifer Borgioli Binis offer practical guidance and sample projects developed from Robertson's authentic classroom experiences to help you find space for this engaging approach to instruction in your daily practice.
Elementary educators will:
Discover why design thinking is more teacher identity than instructional strategy
Learn how design-minded teaching advances student learning and improves engagement
Study real-world examples and experiences of the design process in action
Receive comprehensive examples of projects you can utilize and adapt to fit your classroom's needs
Obtain reproducible tools and templates to enhance your understanding of the material
Related Topics
21st Century SkillsInstructionStudent Engagement
---
Additional Information
Product Code: BKG023, EKF585
ISBN: 9781952812552
Published By: Solution Tree
"I believe every elementary teacher who wants to create an environment where students become reflective explorers, designers, planners, and doers will enjoy the information and examples in this book."
"The most valuable thing in education is the voices of teachers working with students in a classroom, and that is exactly what this book is. The self-awareness and honesty in the words of this book are powerful."
"This book is a useful and engaging guide for elementary school teachers to incorporate design mindsets in their teaching. The text is full of stories, examples, reflective prompts, and exercises for specific age groups that will help all teachers master using design approaches in their classrooms."