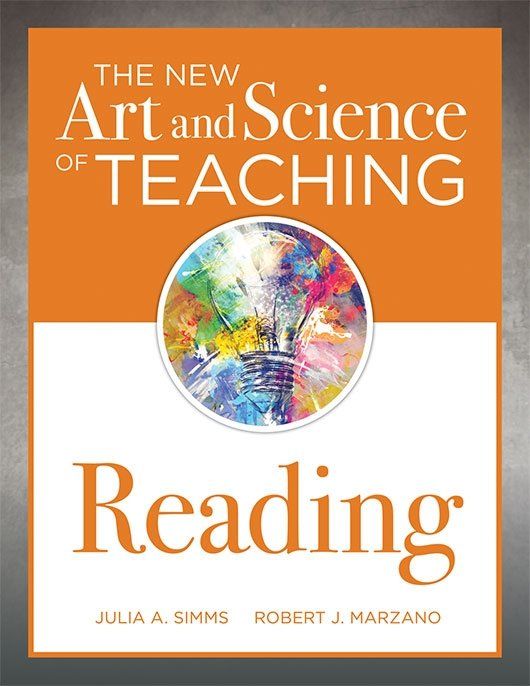 The New Art and Science of Teaching Reading
Discover a model for reading development and 100+ targeted instructional strategies. Apply the framework from The New Art and Science of Teaching by Robert Marzano to the specific needs of teaching reading comprehension. Help every student become a proficient reader, regardless of their stage of reading development.
How to teach reading comprehension using a literacy development model
Only when teachers have in-depth knowledge of reading skill and literacy development can they deliver best-practice reading assessment and instruction to students. The New Art and Science of Teaching Reading presents a compelling model for the stages of reading development structured around five key topics: (1) foundational skills, (2) word recognition, (3) reading fluency, (4) vocabulary, and (5) reading comprehension. More than 100 reading-focused instructional strategies are laid out in detail to help teachers ensure every student becomes a proficient reader. Guide students at all stages of literacy development, from learning the basic concepts of print to demonstrating advanced reading comprehension.
Discover a research-based reading model to guide your instruction:
Understand how to best utilize The New Art and Science of Teaching framework for teaching reading comprehension and other reading skills.
Explore a reading model that addresses how to articulate content, implement specific instructional strategies, and navigate reading-related issues that might arise in the classroom.
Understand which elements of instruction are best suited for teaching reading.
Explore how general strategies for teaching can be employed alongside specific strategies to enhance teaching, enrich learning and literacy development, and improve the classroom environment.
Access free reproducibles, including exercises, games, and readings for the classroom.
A joint publication of ASCD and Solution Tree
Related Topics
InstructionLiteracyStudent Engagement
---
Additional Information
Product Code: BKF811
ISBN: 9781945349676
Published By: Solution Tree
Page Count: 224
"The New Art and Science of Teaching Reading helps teachers feel excited to teach students—not just to teach reading. Simms and Marzano share a multitude of instructional strategies that yield cognitively complex tasks for students and cultivate a mindset of continuous improvement not only in educators but in their students as well."
"Very well written and easy to follow, this book is packed full of practical tools and resources for reading instruction, planning, and reflection that teachers can use immediately in their classrooms. Simms and Marzano do a brilliant job of connecting their reading-specific model of instruction with Marzano's instructional framework that emphasizes feedback, content, and context."