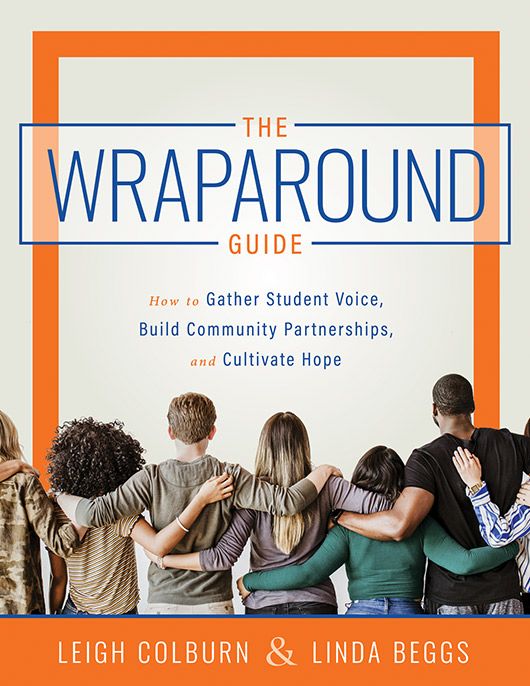 How to Gather Student Voice, Build Community Partnerships, and Cultivate Hope
With this timely guide, you will discover actionable steps for launching and sustaining wraparound services embedded within your school that support the whole child. Amplify student voice and build mental health with strategies that improve academic achievement and classroom behavior.
A wraparound service delivery handbook for helping students overcome barriers to wellness and learning
Your school has the power to help students overcome barriers to well-being and academic achievement—from mental health issues to substance abuse to trauma. With this timely guide, you will learn how to launch and sustain high-quality wraparound services embedded within your school that meet the needs of every learner. Use the book's actionable steps to amplify student voice, establish community partnerships, and design programming that fully supports the whole child.
Recognize the impact of outside influences on students and how they affect their classroom learning.
Design processes to hear student voices and identify their needs.
Forge relationships with students and establish community partnerships.
Design and fund services and programs that meet student needs.
Connect students and families with the support they need to enable learning, wellness, and healthy relationships.
Related Topics
Diversity & EquityFamily & CommunityLeadershipSchool CultureSchool ImprovementSocial-Emotional LearningStudent EngagementViolence & Crisis Prevention
---
Additional Information
Product Code: BKF956
ISBN: 9781951075071
Published By: Solution Tree
Page Count: 280
"This book should be required reading for all parents, teachers, principals, coaches, superintendents, and school board members. The steps that Leigh Colburn and Linda Beggs outline in The Wraparound Guide give everyone a concrete road map to bring to life a culture of connection, care, and hope—for students and adults. Their work with young people across the United States is not just theoretically strong, but inspirational, practical, and possible for every student, school, and community."
"Once in a great while, a book comes along that can transform how we do school, permanently shifting our perspectives. The Wraparound Guide is one such book. An effective how-to manual for accessing and elevating student voice in planning wraparound services, any school seeking to meet students' needs will do well to seek out this invaluable resource."
"How wonderful to see the best practitioner of effective wraparound I've ever witnessed publish a guide for others. This is the book addressing comprehensive wraparound implementation that everybody needs to read. The model is second to none!"
"This guide is an invaluable resource to anyone passionate about providing wraparound supports for students and families. The practical tips and replicable steps allow school and district personnel to customize the framework to meet the unique needs of each community. In these uncertain times, it is more important than ever to ensure schools meet the needs of students and families, and this book undoubtedly supports those efforts."
"As I started to read this book, I instantly felt the same positive energy I felt when Leigh Colburn created the prototype that brought needed services to the students in Marietta City Schools. The Wraparound Guide shows you the power of gathering student voice and tapping into your extended school community to offer programming and services that support the whole child. This work is, in many ways, groundbreaking and, in all ways, important."