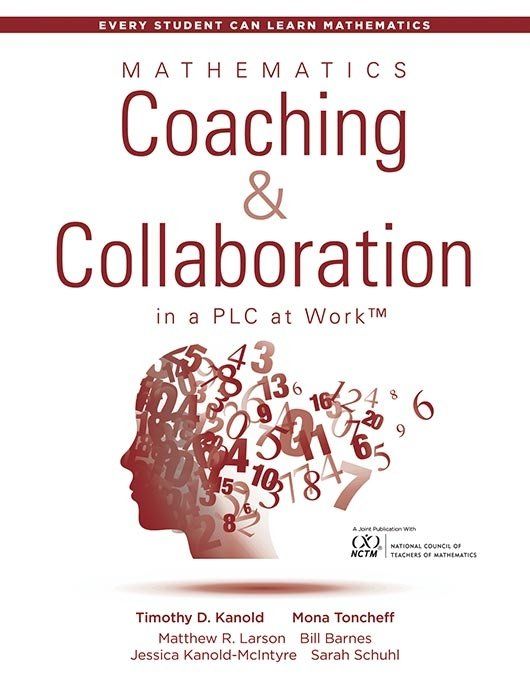 Mathematics Coaching and Collaboration in a PLC at Work™
Build and support math teacher teams in your PLC. This leadership guide will help you establish collaborative teaching strategies to improve math curriculum.
Leading collaborative learning and teaching teams in math education
Build a mathematics teaching community that promotes learning for K–12 educators and students. This user-friendly resource is divided into two parts, each covering a key team action for mathematics in a PLC at Work™. First you'll discover how to coach highly effective mathematics teams within your professional learning community. Then you'll learn how to utilize collaboration and lesson-design elements within your math curriculum for teacher team reflection, data analysis, and action.
Learn to lead math teacher teams and foster effective collaborative teaching strategies:
Build a collaborative math learning culture that engages and promotes learning for students and staff members.
Optimize coaching and foster equity and belonging to encourage collaboration.
Engage in mathematics lesson study to help teams learn from one another and reflect on effective strategies in teaching mathematics.
Develop norms, SMART goals for teachers, agendas, and a plan for working effectively as a collaborative team in a PLC at Work™.
See the other books in the Every Student Can Learn Mathematics series
A Joint Publication of the National Council of Teachers of Mathematics and Solution Tree
Related Topics
LeadershipMathematics at Work™MathematicsProfessional Learning Communities at Work®
---
Additional Information
Product Code: BKF826
ISBN: 9781943874347
Published By: Solution Tree
Page Count: 136
"Practical and proven! This book is a must-read for every mathematics coach and leader who wants to move collaborative teams toward a culture of reflection, refinement, and action so that every student can learn mathematics. The protocols and tools in this book will make a significant difference in the effectiveness of collaborative mathematics teams."
"Mathematics Coaching and Collaboration in a PLC at Work provides teacher leaders with essential practices, strategies, and protocols to create effective collaborative teams to improve teaching and learning in mathematics. This book meets you where you are on the PLC journey, whether you are just beginning or have experience with PLC and are looking for ways to improve and maximize results. There are many opportunities for self-reflection and leadership growth embedded throughout."
"This is a thoroughly and thoughtfully presented guide, offering practical suggestions to help leaders support collaborative teacher teams in focusing on the learning of all students. By focusing on evidence of students' learning, teams harness and focus their energy on the right work."