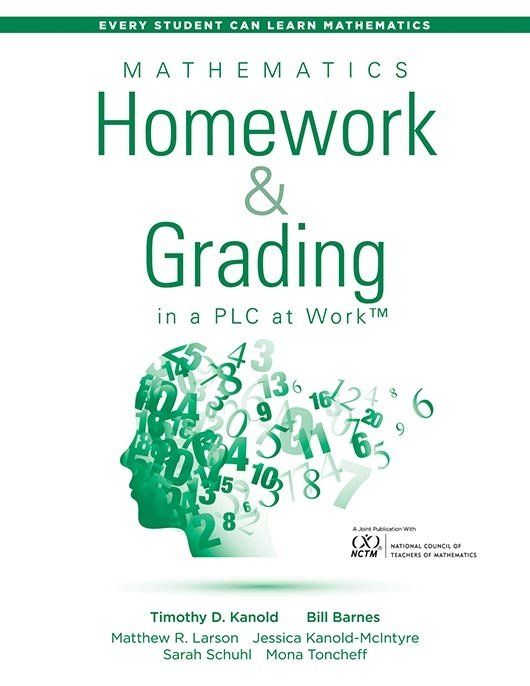 Mathematics Homework and Grading in a PLC at Work™
Use the PLC process to evaluate homework and practices in mathematics. Learn how collaboratively assigning and grading math homework increases student engagement and math skills.
Math homework and grading practices that drive student engagement and achievement
Boost K–12 student achievement by enhancing your approach to mathematics homework and grading. This user-friendly resource is divided into two parts, each covering a key team action for mathematics in a PLC at Work™. First, you'll learn how to develop common independent practice assignments for formative student learning within a professional learning community. Then, discover how to work collaboratively to create quality equitable grading practices to help you evaluate independent practice effectiveness. The book features teacher team tools and activities to inspire student achievement and enhance grading routines as part of a formative student learning process.
Learn collaborative homework and grading practices to grow your students' math skills:
Discover how you and your colleagues can design and use mathematics homework and grading practices to produce significant improvement in student learning.
Learn the value of common scoring agreements among educators.
Understand and find solutions to common grading errors to ensure equity among all students.
Implement effective grading practices that provide meaningful and actionable formative feedback to students.
Support student engagement and ensure students persevere in their learning of mathematics and problem solving.
See the other books in the Every Student Can Learn Mathematics series
A Joint Publication of the National Council of Teachers of Mathematics and Solution Tree
Related Topics
InstructionMathematics at Work™MathematicsProfessional Learning Communities at Work®
---
Additional Information
Product Code: BKF825
ISBN: 9781943874170
Published By: Solution Tree
"This valuable resource answers frequently asked questions with practical information, examples, and resources from schools that have taken learning to a whole new level. The most impressive aspect of this book is the intentional focus on student involvement in the learning process, incorporating metacognitive strategies that increase self-efficacy and awareness. I enthusiastically recommend this book to anyone who truly wants to improve student learning through effective homework and grading practices."
"Mathematics Homework and Grading in a PLC at Work provides guidance to operationalize the vision of equity in classroom practice. No longer will teams merely talk about equity in the abstract, as this book offers concrete examples and vignettes to develop a shared understanding of the required work as well as tools for reflection and discussion to minimize disparities among teachers. What a great tool for collaborative teams as they consider their practices to propel student learning in mathematics."
"Teachers and administrators often struggle with questions surrounding homework. In Mathematics Homework and Grading in a PLC at Work, the authors show how developing high-quality independent practice assignments, along with the needed grading components, are critical parts of the PLC process. The reflection and discussion tools offer powerful experiences for collaborative teams in doing the right work. This book is a must for every educator working to improve learning for every student."
"Mathematics Homework and Grading in a PLC at Work really brings the Yin and Yang of homework and grading together with a powerful awareness! This resource could truly be the starting point for change that would bring equity to student engagement and learning. The authors emphasize the power of many completing the circle of change, which will positively influence and improve student learning through an increased focus on mathematical understanding and reflection as part of student knowledge of mathematical content and processes."