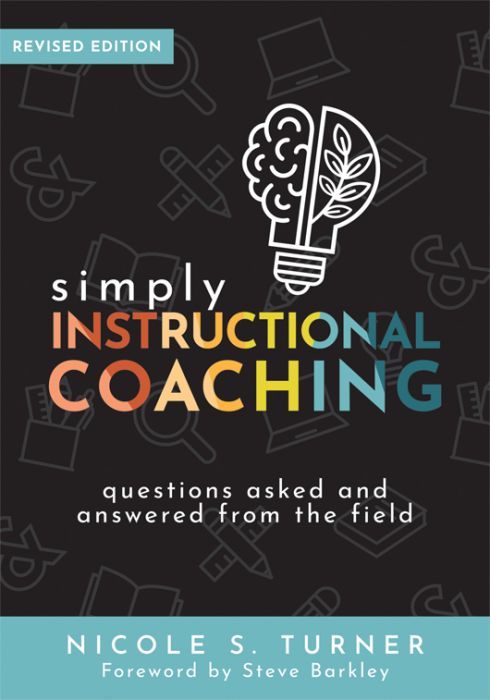 Simply Instructional Coaching
Questions Asked and Answered From the Field, Revised Edition
The role of an instructional coach is fundamental. The personalized, job-embedded professional development, instructional strategies, and targeted feedback you give to teachers helps them hone their craft. Your work impacts student success and school improvement. If you've got questions, this guidebook is for you.
Straightforward, accessible answers to your frequently asked questions
Author Nicole S. Turner opens up about the trials and joys of being an instructional coach. Drawing from the latest research and her years of experience, she provides the honest and direct answers you need to be your best in this essential role. Get foundational advice, quick tips, a practical coaching framework, and opportunities for reflection to help you level up your coaching career.
This book will help K–12 instructional coaches:
Gain a deeper understanding of their role in schools
Understand the best ways to support teachers and guide their professional development
Improve relationships among teachers and administrators
Explore a three-part model for initiating a coaching program
Utilize targeted reflections and tools to engage with their own role as a coach
Related Topics
---
Additional Information
Product Code: BKG108
ISBN: 9781954631854
Published By: Solution Tree
Page Count: 216
"This book is the missing piece! As a previous instructional coach myself, I had many resources for engaging adult learners in critical conversations for professional growth, but found the daily job responsibilities and line between working with teachers and administrators elusive. Nicole S. Turner's book brings clarity through her practical applications from lived coaching experience, outlining the planning 'nuts and bolts' and mitigating potential pitfalls—exactly what new instructional coaches need to begin with less frustration and more immediate success!"
"Through a question-and-answer format, Nicole provides easy-to-read, research-based advice on the foundational components that will help instructional coaches find success in their roles. It is evident that her practical advice stems from her rich experience and her passion as an instructional coach. This will be a valuable go-to guide for coaches for years to come."
"While coaching is never simple, Nicole Turner assists new and experienced coaches to make it seem so. Filled with valuable guidance and practical tools to use during coaching and reflection on coaching, Simply Instructional Coaching offers coaches the foundational information that will support their success. It is organized around a series of topics that coaches most often have questions about, shares information to facilitate exploring the multiple dimensions of each topic, and prompts readers to formulate their own responses to those questions."