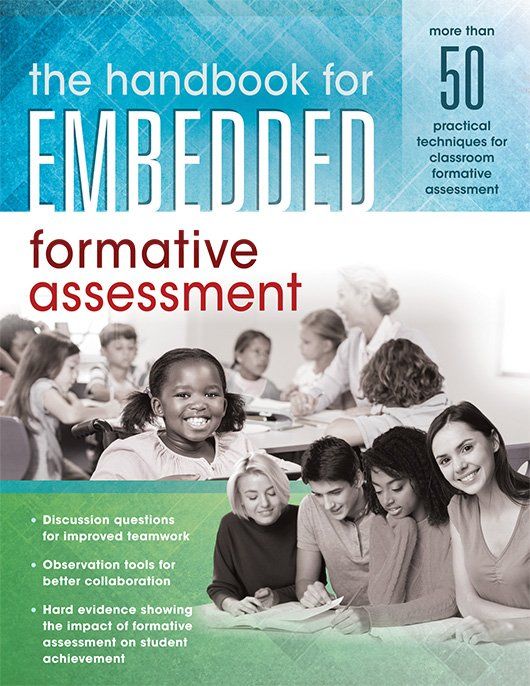 The Handbook for Embedded Formative Assessment
Developed as a companion to Dylan Wiliam's Embedded Formative Assessment, this practical handbook is packed with proven techniques and how-tos for effective assessment strategies in the classroom. Use this Embedded Formative Assessment study guide in your journey to raise student engagement and academic achievement.
A Practical Guide to Classroom Formative Assessment Strategies
Developed as a companion to Dylan Wiliam's Embedded Formative Assessment, 2nd ed., this handbook guides K–12 teachers through the process of developing effective formative assessments. Inside its pages, you'll find tried-and-tested classroom techniques, practical how-tos, and exercises designed to guide implementation. The book also includes discussion questions that can be answered as teams or used for individual reflection.
Learn how to implement the strategies of formative assessment in the classroom:
Explore research that states classroom formative assessment is the most impactful—and cost-effective—approach to raising student academic achievement.
Review the five key strategies of classroom formative assessment.
Gain more than 50 practical techniques for classroom formative assessment.
Clarify and share learning intentions and success criteria, elicit evidence of student achievement, and give feedback that moves learning forward.
Understand that teacher quality remains the most important determinant of student engagement and learning.
Related Topics
---
Additional Information
Product Code: BKF803
ISBN: 9781945349508
Published By: Solution Tree
"The Handbook for Embedded Formative Assessment encourages educators to raise the quality of their classroom learning environments to develop assessment-capable, self-regulated learners. The templates and exercises in each chapter help educators examine their current practices, apply new understandings, and use evidence to continuously improve their teaching, meet student needs, and deepen student learning."
"The Handbook for Embedded Formative Assessment is poised to become a staple in every teacher's classroom. Packed with salient research, practical strategies, and user-friendly templates, this handbook should be essential reading for teachers looking to enhance their formative assessment fluency and capacity, and for administrators wishing to transform the collective assessment mindset and culture within their contexts."