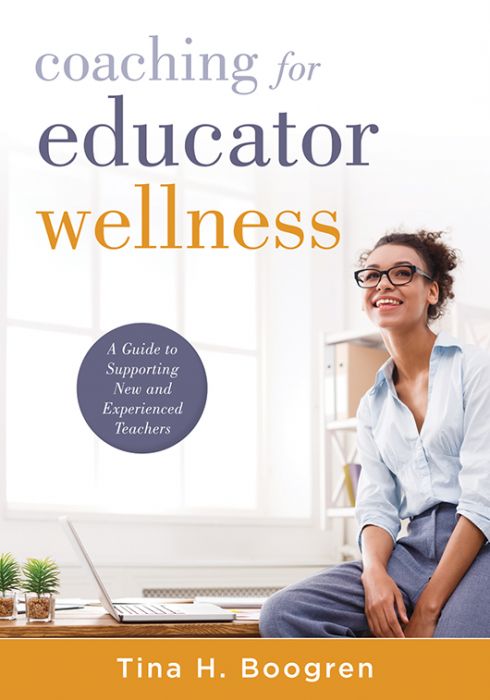 Coaching for Educator Wellness
A Guide to Supporting New and Experienced Teachers
Acquire evergreen instructional coaching strategies alongside fresh new solutions for guiding new and veteran teachers, addressing teacher self-care, promoting teacher well-being, and more. Learn how to provide a solid foundation of physical, emotional, instructional, and institutional support for educators.
An interactive and comprehensive teacher wellness guide for instructional leaders
Fully and confidently step into your role as an instructional coach with the support of Coaching for Educator Wellness. This instructional leadership guide offers evergreen strategies alongside fresh new solutions that will help you differentiate coaching practices for new and veteran teachers, address teacher self-care, and more. You'll turn to this resource again and again as you continue to improve your craft and help teachers find their own greatness.
Increase teacher expertise and self-efficacy by providing a strong foundation of physical, institutional, emotional, and instructional support:
Review research surrounding best teacher coaching practices.
Explore strategies for differentiating coaching practices for teachers at every stage of their career.
Study the four types of support, and learn how to match support to meet each teacher's needs during different phases of the school year.
Use interactive activities, tools, and templates to help support all teachers in increasing their expertise.
Consider how self-care and professional wellness for adults are foundational supports for social-emotional learning for students.
Answer end-of-chapter questions to reflect on your journey and deepen your understanding.
Related Topics
Educator WellnessInstructionSocial-Emotional LearningTeacher Efficacy
---
Additional Information
Product Code: BKF989
ISBN: 9781951075798
Published By: Solution Tree
Page Count: 152
"Great instructional coaches possess that rare combination of academic knowledge and the relational moxie necessary to mentor and coach into others effectively. In Coaching for Educator Wellness, Tina H. Boogren provides exceptional clarity and the reflective space for you to become an exceptional mentor and coach. As you journal about your coaching story, she carefully crafts a new dimension of coaching that is vital, yet often undervalued. As she states in the book: Educator wellness should never be an afterthought: it's an essential aspect of our role as coaches. Enjoy this gift from a gifted mentor and coach who understands the nuances of being in your coaching shoes!"
"For years, we have discussed the importance of the whole child in the schooling process. This book champions the importance of the whole educator in improving schools. With teacher burnout on the rise and retention rates of new and veteran teachers plummeting, this book is timely and necessary as we fight to recruit, retain, and help teachers grow and thrive in our profession."
"So many things to love about Boogren's book. 1. She highlights the importance of educator wellness as an integral part of instructional leadership, instead of making wellness something to pursue due to the price of being a leader. I also love the reflection and journaling aspect of this book. She doesn't allow you to make this yet another passive read. She challenges us to reflect on our practice, and make commitments to do better, be better, and lead more effectively."