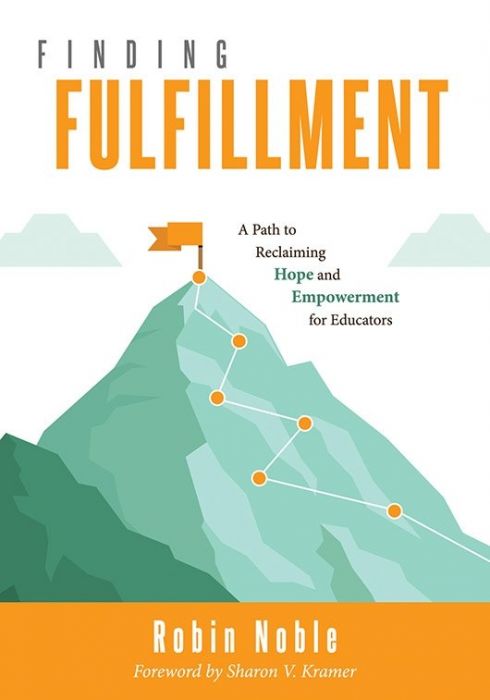 A Path to Reclaiming Hope and Empowerment for Educators
Develop a renewed sense of well-being, empowerment, and happiness in your career with the support of Finding Fulfillment and the self-determination theory. Gain tools and techniques for administrator and teacher empowerment in schools.
Apply self-determination theory for empowerment in education
Designed for teachers and administrators, Finding Fulfillment by Robin Noble outlines how the three key aspects of self-determination theory can help you understand and overcome teacher burnout and reviews best practices that will empower you with tools and techniques to develop a renewed sense of educator and teacher well-being, happiness, and fulfillment in your career. Strategies for success and reflection questions throughout guide your path forward.
Rely on this comprehensive resource to help restore your belief in your ability as an educator to drive change in your school or district:
Study the widespread effects of increased teacher demoralization.
Understand the three innate needs—teacher autonomy, teacher competence, and teacher relatedness—that, when filled, lead to a sense of fulfillment at work.
Understand how the Professional Learning Communities at Work® (PLC) process will help you meet the three innate needs.
Access tools and techniques that will empower you to progress toward fulfillment in your role.
Create a new vision for your future as an educator.
Improve teacher empowerment in schools.
Related Topics
LeadershipProfessional Learning CommunitiesSchool ImprovementTeacher Efficacy
---
Additional Information
Product Code: BKF893
ISBN: 9781947604759
Published By: Solution Tree
Page Count: 144
"Robin Noble provides a path to self-renewal by reminding us we are in control of our mindset, growth, and actions. She illustrates how, by working together, we will achieve more and nurture basic human needs for ourselves and others."
"This excellent book takes theory into action to create a simple yet incredibly powerful lens to guide educators to greater fulfillment in work."