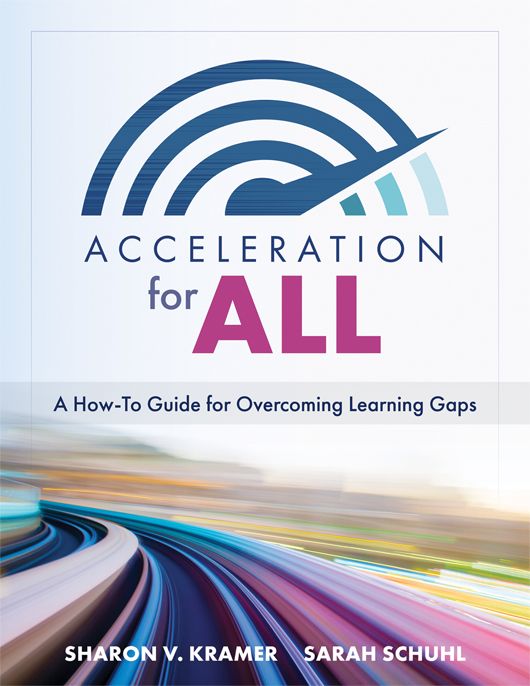 A How-To Guide for Overcoming Learning Gaps
Closing achievement gaps is an urgent goal for all schools, not just priority schools. The authors show that remediation is not the answer. Instead, they offer educational strategies for acceleration that will level up learning for all students, as well as a framework for implementing accelerated learning schoolwide.
Educational strategies for how to close learning gaps through accelerated learning
The need to overcome student learning gaps exists in every school. The answer is not a culture of remediation but one of acceleration. Every student deserves to learn at grade level or beyond—this is equity in action. Acceleration for All offers research-informed, real-world, and ready-to-implement strategies, with an emphasis on core instructional practices, to ensure accelerated learning schoolwide.
This book will help K–12 teachers and leaders:
Implement practical strategies for sustained accelerated student learning
Shift from a mindset of deficit thinking to strengths-based thinking related to student learning
Develop opportunity equity so all students have access to grade-level learning every day
Develop learning cycles to address instruction, assessment, and interventions or extensions as a team with a focus on every student learning grade-level standards
Learn how to establish a learning-based culture rooted in collective efficacy
Support teachers, teams, and students through collaborative leadership
Create processes and procedures for continuously improving learning
Related Topics
AssessmentCurriculumInstructionLeadershipProfessional Learning Communities at Work®School Improvement
---
Additional Information
Product Code: BKG049
ISBN: 9781954631014
Published By: Solution Tree
Page Count: 200
"Acceleration for All clearly articulates the mindsets and team actions needed to support a school where learning is required for all. This book explores how collaborative teams and leaders collectively shift practices to use intentional strengths-based approaches to ensure all students learn at grade level or above. If you are looking for resources and protocols to create a culture where learning is required and focus on a forward movement of acceleration, this is the book for you."
"In a time when acceleration is vital, authors Sharon V. Kramer and Sarah Schuhl have taken a positive approach with a new mindset to support high levels of learning for all. These meaningful shifts and practical strategies will change how you think about what students can really do. This book is a call to action and will prepare you well for significant transformations."
"In my work as an instructional leader, PLC coach, and Priority Schools coach, I am always finding pieces to fit together that address our most needy students. The idea of shifting the mindsets of students and staff from remediation to acceleration has proven to be the most worthy of investment and recipe for success. Kramer and Schuhl have taken their shared expertise and knowledge from years of work with priority schools and created a logical, systematic, and proven road map for all schools to follow in order to provide grade-level mastery for all students. Based on the premise of the four critical questions of a PLC, this book provides substance and context on what it really means when we say, 'all means all.'"