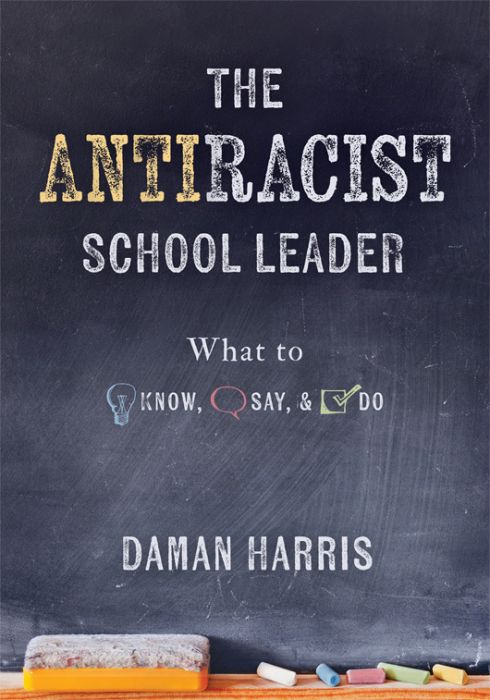 The Antiracist School Leader
What to Know, Say, and Do
Learn how to plan, test, and execute a comprehensive antiracist vision to transform the culture, curriculum, and conscience of your district and school administration. This book will challenge and empower you to partner with school staff and the community to tackle issues of systemic oppression that have impacted teaching and learning.
Antiracist strategies for promoting cultural competence and responsiveness in everyday practice
Learn a big-picture framework and research-based actions for bringing the power of antiracist education to school culture and curriculum. Education leaders will deepen their knowledge, strengthen their skills, and lead their staff members toward more equitable outcomes for students and their families. Harris infuses the guidance he gives with stories from colleagues' and friends' experiences that correspond with the shared information and suggested reforms.
This book will help K–12 education leadership:
Review essential information and history regarding antiracism in education, as well as key vocabulary terms and definitions
Learn how to plan, assess, and execute a comprehensive antiracist school vision
Gain ideas for connecting instructional opportunities to students' lived experiences and monitoring the strategies' impact
Plan professional learning experiences toward achieving critical consciousness among educators in the school community
Take concrete, research-aligned next steps for growing as antiracist leaders and continually instilling schools with racial literacy
Related Topics
Diversity & EquityLeadershipSchool Improvement
---
Additional Information
Product Code: BKG081
ISBN: 9781954631311
Published By: Solution Tree
"The Antiracist School Leader offers real-life stories that provide clear and specific examples of antiracist leadership. It provides a development and system approach to change in schools. This book is a great resource for emerging and practicing school and district leaders."
"This book is rich with theory and frameworks. It has the potential to make a significant impact on schools and communities if dissected and followed. I am elated that the author is elevating this body of knowledge and moving to disrupt the current culture of racism."
"All students need educational leaders to understand the urgency for equitable and antiracist spaces. They need us to follow that understanding with actions. If you want to grow from knowing about antiracism to doing, you must read The Antiracist School Leader."