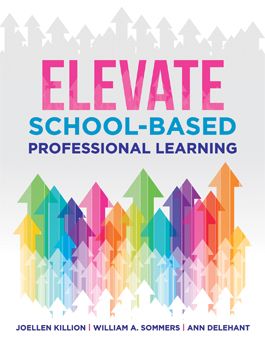 Elevate School-Based Professional Learning
Empower teachers to design, implement, and evaluate their own school-based professional learning to improve collective teacher efficacy and impact student achievement. This book offers tools and strategies for creating effective school professional development that most directly ties to daily application of skills.
Implement school-based PD based on authors' research and real experiences with strategies that work
Collaborative staff development in education is the vehicle to student success, and research shows that the closer professional learning is to daily practice, the more meaningful and impactful it will be. Written with deep respect for the work educators do in their classrooms each day, this practical resource illustrates the importance of school-based professional learning and offers guidance on how to implement it.
This book provides essential knowledge and tools so that teachers, teacher leaders, staff development coordinators, instructional coaches, principals, and district leaders can:
Collaboratively study and solve issues unique to their schools
Conduct professional learning and skill application in tandem
Access collaborative learning tools and techniques for implementing, assessing, maintaining, growing, and reflecting on school-based professional learning
Learn how to collect and analyze data to determine the focus of their school-based professional learning
Understand how to reach learning goals by developing essential knowledge, attitudes, skills, aspirations, and behaviors
Gain insight into the personal and systemwide benefits of school-based professional learning and how to meet and move beyond the challenges of implementing this model
Related Topics
LeadershipSchool ImprovementTeacher Efficacy
---
Additional Information
Product Code: BKG085
ISBN: 9781954631397
Published By: Solution Tree
"Everything educators need to know and do related to school-based professional learning is here in one resource. This book is a must for everyone who leads, implements, or supports professional learning."
"This practical guide includes ways to develop sustainable learning, study data to accelerate change, and celebrate learning across a school."
"This book reminds us that when teachers join forces with instructional coaches, parents, and campus leaders, the professional learning process transforms, becoming a powerful campus-wide system that facilitates adult learning and sustains widespread change."