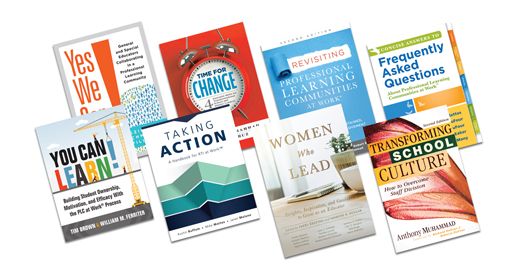 Specially curated for educators who have experienced a PLC at Work® Institute, the Keynote Toolkit contains books written by experts who have inspired you from the stage. Robert Eaker, Anthony Muhammad, Mike Mattos, Jeanne Spiller, and other phenomenal experts dig into today's hot-button professional development topics.
30% off regular retail price when you buy these resources as a toolkit.
This product is only available to ship within the United States
A special collection of PLC resources by your favorite PLC Institute presenters
Couldn't decide which Solution Tree books to buy at your last PLC at Work Institute? The Keynote Toolkit is the perfect sampler of research-based, relevant resources written for PLC schools by presenters who have shared their wisdom from the stage. From improving special education with PLC collaboration to providing deep insights into transformational leadership and direct answers to your PLC FAQs, this toolkit delivers.
The Keynote Toolkit will help K–12 educators:
Learn key strategies that the top Model PLC at Work schools and districts have successfully used
Access free reproducibles to help deepen the learning and implement the strategies
Utilize valuable content with professional development leadership during their next in-service education workshops
Reach professional development goals for teachers
Get inspired by new ideas for PLC training
Dig deeper into professional development topics for teachers through rich, research-based content
Explore in depth the benefits of professional learning communities
The Keynote Toolkit contains the following titles (products may be purchased individually):
Related Topics
Professional Learning Communities at Work®Professional Learning Communities
---
Truly, one of the best books in education and one that EVERY educator must read!! @jeeneemarie @heatherlfriz @kildeer96 #atplc #rtiaw @SolutionTree https://t.co/1FKeQWkqgq

— Will Remmert, PhD (@willremmert) June 8, 2020
Moved my reading indoors ⛈ couldn't put it down in the middle of Building Capacity. A whole lot of, "yes!" @newfrontier21 @lcruzconsulting @SolutionTree pic.twitter.com/sHNzymDYkT

— Kelley Murphy (@PrinMurphy) July 5, 2019
I love this book!!! I can't read and reread enough! We must monitor the work of our teams! The authors break down the $ used for collaboration! @SolutionTree #atplc pic.twitter.com/fX3mTpYaYd

— Bo Ryan (@bo_PLC) January 13, 2018
"Break your Tier 2 interventions down by SKILL and WILL." Run, don't walk, to get a copy of this amazing resource if you are looking to take your MTSS to the next level of effectiveness. Even if you are an RtI veteran, this book is seminal. @mikemattos65 #moplc18 pic.twitter.com/ToYa2IdhWZ

— Kelly Vines Nash (@kellyvinesnash) January 30, 2018
Here are my favorite three books from 2021. You Can Learn! From @ctimbrown and @plugusin Revisiting PLC at Work by @mikemattos65
and @newfrontier21 and Formative Tools for Leaders in a PLC by @cjakicic and @Bailey4learning What are yours?@SolutionTree pic.twitter.com/6IG2KLVaGj

— Every Kid Now (@everykidnow) December 27, 2021
Thanks to @suptbarbaree for kicking off Team OCSS's Wiser Wednesday book study! Looking forward to the next several weeks of great conversation around PLC & HRS: Cultures of Continuous Learning. @brentmiller123 @MikeCHernandez3 @llthrash @roccimalone @CameronRains @TinaVestSmith pic.twitter.com/Whaw7ChoXq

— Sheila Whitlow (@Sheila_Whitlow) April 15, 2020