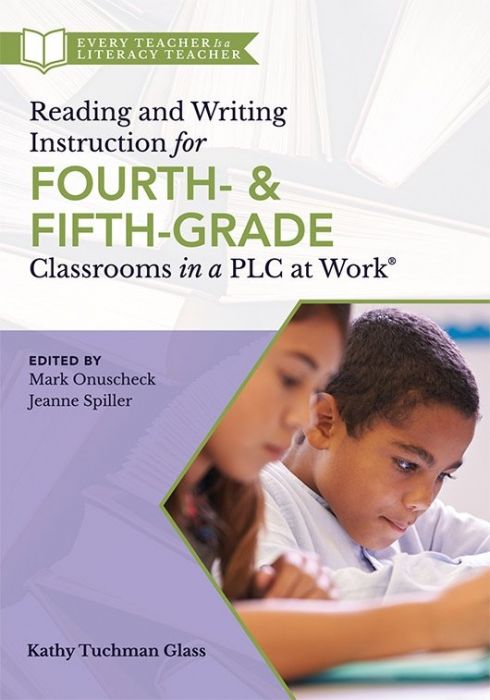 Reading and Writing Instruction for Fourth- and Fifth-Grade Classrooms in a PLC at Work®
Prepare students in grades 4–5 to succeed with increasingly sophisticated reading and writing challenges. This resource contains literacy and student engagement strategies for educators in a professional learning community, as well as reading and writing strategies.
Reading and writing strategies for improving literacy skills in primary education classrooms
Prepare students to succeed with increasingly sophisticated reading and writing challenges. Designed for teachers of grades 4–5, this resource helps readers address the pivotal shift in learning expectations that occurs during the upper elementary years. Myriad templates, tools, and strategies are included to support collaborative teams as they work to establish a rich and robust plan for quality literacy instruction, assessment, and intervention.
Understand the role PLCs and collaborative teams play in literacy development and reading comprehension strategies.
Obtain strategies and tools, such as the pre-unit protocol, for unpacking and clarifying literacy standards.
Explore adaptable, research-based instructional strategies, and learn how to plan high-quality literacy instruction that boosts student reading and writing skills.
Examine the four components of the gradual release model—(1) focused instruction, (2) guided instruction, (3) collaborative learning, and (4) independent learning.
Observe how to collaboratively score assessments and conduct effective data inquiry and analysis.
Study the powerful impact literacy has on student engagement and inclusivity.
Related Topics
InstructionLiteracyProfessional Learning Communities at Work®Professional Learning Communities
---
Additional Information
Product Code: BKF902
ISBN: 9781947604933
Published By: Solution Tree
"This is a comprehensive guide to help collaborative fourth- and fifth-grade teams successfully implement reading and writing instruction. It also includes a deep look at equity in our schools and how to bridge the gap through effective, literacy-focused collaboration. Truly a must-read book every teacher should have!"
"I constantly research processes for the teams I support to facilitate collaboration when unpacking and understanding learning standards and utilizing data to drive instruction. This book encapsulates the essence of effective teaching and the benefits of true collaboration to maximize student literacy and achievement."
"This amazing book offers so much information and direction for how collaborative teams can determine standards, create assessments, and use data to guide instruction and enhance students' literacy skills."
"This book is a great one-stop resource for collaborative teams that are part of a PLC culture to better their practice when teaching reading and writing standards."
Free Resources
Explore these powerful tools to help reach your goals.