Time For Change: Four Essential Skills for Transformational School and District Leaders Workshop
Become a catalyst for school improvement by developing the skills of a transformational leader.
During this workshop, teams of teachers, counselors, building administrators, and district administrators will study four distinctive leadership behaviors proven to promote positive change: (1) communication, (2) trust building, (3) professional capacity, and (4) universal accountability.
As active participants, you and your team will examine the research that supports these behaviors, as well as engage in practice activities designed to build your capacity. Return to your school equipped with the skills and knowledge to lead effective change, address staff resistance, and create a student-centered culture committed to high levels of learning.
Discover how to generate a culture of accountability.
Learn how to recruit, develop, and retain professional talent.
Strengthen staff commitment and enthusiasm for school improvement.
Consider how to rebuild trust with distrustful staff members.
Examine the origins of logical and illogical resistance in schools.
Gain strategies for overcoming resistance to change initiatives.
Identify ways to provide professional support to struggling team members.
Learn from leading experts
Agenda and speakers are subject to change.
Monday, November 13th
| | |
| --- | --- |
| 7:00–8:00 a.m. | Registration and Continental Breakfast |
| 8:00–11:30 a.m. | Presentation |
| 11:30 a.m.–1:00 p.m. | Lunch (on your own) |
| 1:00–4:00 p.m. | Presentation |
Tuesday, November 14th
| | |
| --- | --- |
| 7:00–8:00 a.m. | Registration and Continental Breakfast |
| 8:00–11:30 a.m. | Presentation |
| 11:30 a.m.–1:00 p.m. | Lunch (on your own) |
| 1:00–4:00 p.m. | Presentation |
Events reach capacity quickly. Please confirm your registration before making travel plans.
Parking information: $40 Self Parking
---
Primary Hotel
Holiday Inn Golden Gateway
1500 Van Ness Ave
San Francisco, CA 94109
866.272.7098
Discounted Rate: (single or double) $179/night (Sun 11/12 and Mon 11/13), $209/night (Tues 11/14 and Weds 11/15)
Deadline: October 23, 2023, or until group rate is sold out

"I appreciated the opportunities to discuss the scenarios in a small group, but I really appreciated hearing how things actually played out. Anthony is very easy to listen to as he has so much experience to draw on."
"Dr. Muhammad was very engaging and knowledgeable. I have already begun using many of the techniques introduced."
"Having the chance to reflect on my practice as we explored transformational leadership with Dr. Muhammad was invaluable. I appreciated the insightful feedback provided during the scenario activities. I also thoroughly enjoyed collaborative opportunities with educators from around the country."
"Dr. Muhammad was a profoundly talented presenter. He offered many thought-provoking statements that made me rethink my own practice. We are all called as leaders to be self-reflective practitioners, and Dr. Muhammad guided this process for me. I now feel better equipped to be a positive instrument of change yielding positive outcomes for my students and a caring culture with high standards for my staff."
Venue
Holiday Inn Golden Gateway
Emerald Ballroom
1500 Van Ness Ave
San Francisco, California
---
Participation Information
You will receive a certificate of participation 6 weeks after the event concludes. Please check with your state department of education for CEU availability.
---
Additional Information
---
Included with your registration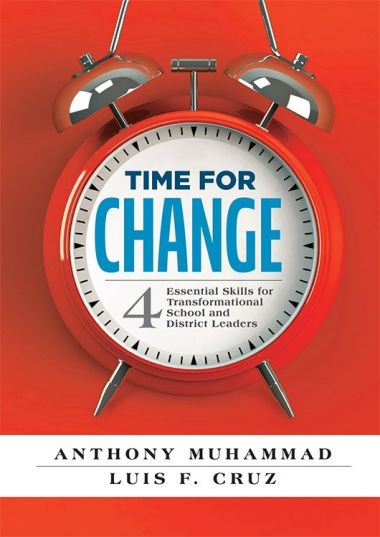 Discover how to develop and strengthen the four essential skills of effective educational leaders. Inspire a shared vision of strategic change and overcome resistance through strong communication, trust building, empowerment of those you lead, and a focus on results.
We're enhancing your event experience. In addition to providing presentations in digital format, Solution Tree is publishing retail-quality, perfect-bound notebooks expertly designed to support your learning. Any printed handouts or worksheets integrated into your sessions will continue to be provided.