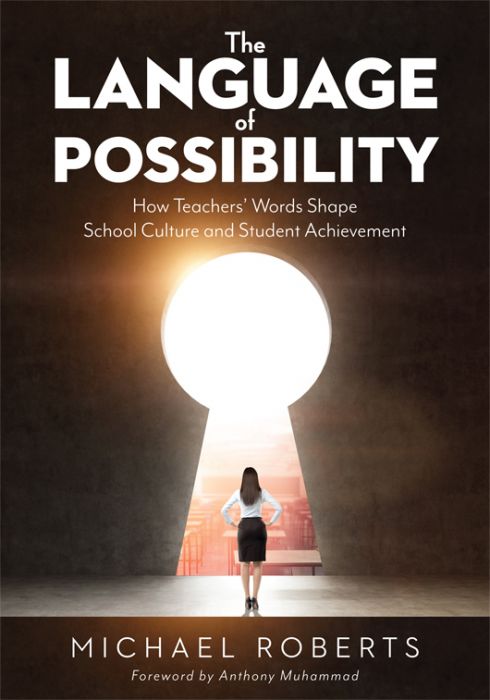 The Language of Possibility
How Teachers' Words Shape School Culture and Student Achievement
Does your language lift or limit your students? In this essential resource, school improvement expert Michael Roberts uses brain-based research to address the stifling effects "teacher talk" has on student growth and school culture.
Publication date:
Only %1 left
Increase empathic communication in your classroom
Language can help lift or limit students. Based on brain research and authentic classroom experience, this book will help you get back to the optimism of teaching by reconnecting with the possibility of each student. From classroom practice to systemwide policies, readers will find strategies for shifting the way we approach teaching to cultivate the gifts each student has to offer.
Teachers and leaders will:
Understand how limiting language stifles student growth and academic success
Utilize figures and other resources to better recognize limiting language and replace it with positive language
Reflect on the culture of your own school and improve collaborative work
Access and analyze data that will equip you to better handle obstacles in developing your professional learning community
Improve communication among all classrooms within your school or district
Related Topics
Diversity & EquityLeadershipProfessional Learning CommunitiesSchool CultureSchool Improvement
---
Additional Information
Product Code: BKG048, EKF610
ISBN: 9781949539387
Published By: Solution Tree
Page Count: 152
"Michael Roberts has created an essential guide for educators to reflect on and improve the way they think and speak about students and colleagues. Too often, educators unknowingly close doors for learners by using all-too-common limiting language. In The Language of Possibility, Roberts expertly demonstrates how to identify and replace limiting language with the language of possibility. If you wish to make lasting positive changes in key areas such as student motivation, teacher collaboration, and meeting the needs of underserved students, put this book on your required reading list."
"The Language of Possibility is an unflinchingly bold attempt to earn our focus and turn it away from the marginalizing language that has plagued education for decades. Roberts sets our gaze on what's possible when educators lean into the language of power and promise and how it showcases the brilliance inside each and every student we serve. The Language of Possibility is part of the bedrock on which belonging is built, and belonging is a critical and overlooked component of equity."
Free Resources
Explore these powerful tools to help reach your goals.