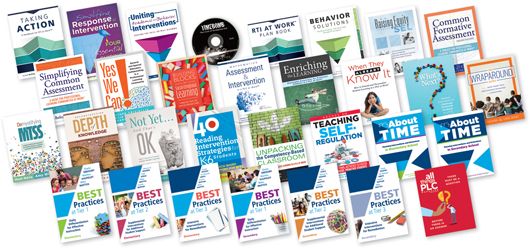 Explore a curated collection of professional development resources for teachers. This package of self-guided books for social-emotional learning, behavior solutions, and MTSS/RTI in education includes 29 books, 1 DVD, and a subscription to AllThingsPLC Magazine.
15% off regular retail price of these resources when you buy them as a toolkit. You save $200!
This product is only available to ship within the United States
Publication date:
Format:
Paperback, Magazine, Video
The RTI Toolkit
Whether you're just beginning to build a system of intervention or working to fine-tune your existing practices, this collection of resources guarantees to extend your knowledge even further. Designed by proven RTI experts, this curated kit includes nine books and five DVD sets that will help your school ensure learning for all for years to come.
Each toolkit comes in an easy-to-carry display case.
Build a comprehensive library of premium staff resources on RTI that easily adapt to meet the needs of your school or district.
Discover research-based solutions for tackling any RTI challenge.
Leverage tips, tools, and templates from experts proven to boost student achievement.
Deepen your understanding of how to counteract a toxic culture while motivating students to succeed.
Equip your staff with a variety of print and video resources flexible enough to meet the needs of adult learners.
---
The RTI Toolkit contains the following titles (products may be purchased individually):
Related Topics
RTI at Work™Response to Intervention
---