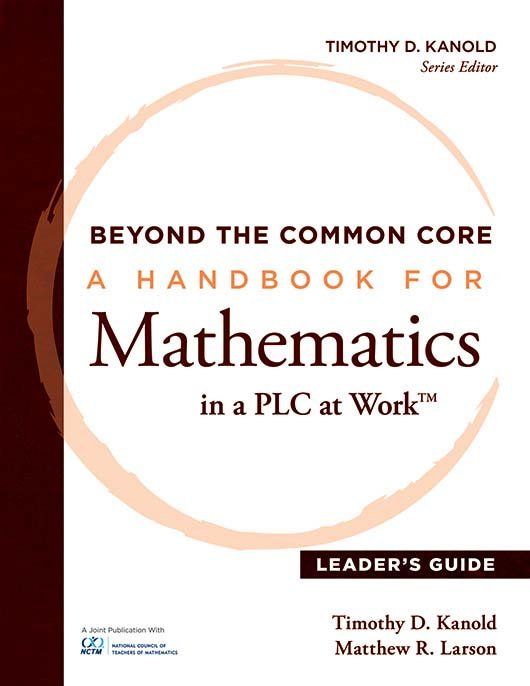 A Handbook for Mathematics in a PLC at Work™, Leaders Guide
Learn 10 high-leverage actions your collaborative team should take before, during, and immediately following a unit of mathematics instruction.
Beyond the Common Core
Focus your curriculum to heighten student achievement. Learn 10 high-leverage team actions for mathematics instruction and assessment. Discover the actions your team should take before a unit of instruction begins, as well as the actions and formative assessments that should occur during instruction. Examine how to most effectively reflect on assessment results, and prepare for the next unit of instruction.
See the other books in the Beyond the Common Core series
Identify and cultivate the elements of mathematics instruction and assessment that yield the greatest impact on student learning.
Increase student learning through 10 steps known as high-leverage team actions for mathematics instruction and assessment.
Understand teacher actions that develop student understanding and skill for lower- and higher-cognitive-demand mathematical tasks every day, every lesson, every unit, every year.
Access reproducibles and appendices to gain instructional strategies aligned with your states standards.
Related Topics
Mathematics at Work™MathematicsProfessional Learning Communities at Work®Professional Learning Communities
---
"Beyond the Common Core, Leaders Guide is a must-have for leaders at every level! It provides a critical component in the recipe for success in mathematics: how. Blend the wisdom found in every page of this handbook with a school culture where professionals work and learn collaboratively, monitor and respond frequently to each student's learning of the essential mathematics skills and concepts, and celebrate the fruits of your collective labor, early and often."
"For school districts and schools focusing on improving mathematics achievement through collaborative teams of leaders and teachers, Beyond the Common Core: A Handbook for Mathematics in a PLC at Work,™ Leaders Guide is a significant resource for the task. It provides excellent examples of higher-level-cognitive-demand mathematical tasks, and the numerous detailed forms are invaluable in helping teams enhance unit plans, while also focusing on assessment and homework. Although written with examples from the Common Core, the ideas and actions set forth by the authors are workable for any set of state mathematics standards."
Free Resources
Explore these powerful tools to help reach your goals.