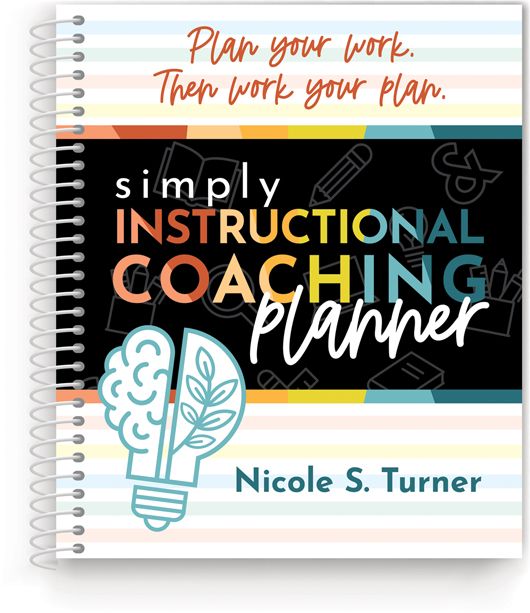 Simply Instructional Coaching Planner
Keep this instructional coaching planner within easy reach to master each day with skill and focus. Whether you're new to coaching teachers or a seasoned professional, this resource supports your drive and passion for your work by providing the tools you need to stay focused and organized.
Publication date:
Format:
Paperback, Spiral Bound
An all-in-one companion planner to Simply Instructional Coaching
Are you ready to be the most impactful coach you can be? This companion planner to Nicole S. Turner's powerful resource, Simply Instructional Coaching, offers tools to simplify tasks, manage time, be a reflective coach, and set goals. Helpful tips and purposeful pages help K–12 instructional coaches maintain focus on their vital role in developing teacher potential.
This book will help you:
Plan and record your essential coaching functions all in one place
Help teachers become more effective in the classroom and track coaching cycles to reflect on teacher growth
Set coaching goals, record professional development sessions, and strengthen your overall coaching plan
Generate coaching schedules to stay on task each day, week, and month
Note tasks and reminders, new resources to purchase, teacher birthdays, testing schedules, and more
Related Topics
---
Additional Information
Product Code: BKG165
ISBN: 9781960574015
Published By: Solution Tree
"Nicole is a coach who gets it. The most knowledgeable, talented coaches struggle in their role because they do not have systems in place to be successful all year long. Simply Instructional Coaching Planner allows coaches to think ahead about teachers' needs and provide relevant support right when they need it. Nicole helps coaches stay accountable for growing the capacity of teachers to better serve students as long as they put pen to paper in the planner. This resource is a must for anyone wanting to lead effectively and leave a legacy in every building in which they work."
"With various organizers and inventories, the planner is a perfect companion to Simply Instructional Coaching! Nicole's reflective and intentional tools uniquely support a coach's practice to more effectively and efficiently cultivate conditions for positive teacher growth."