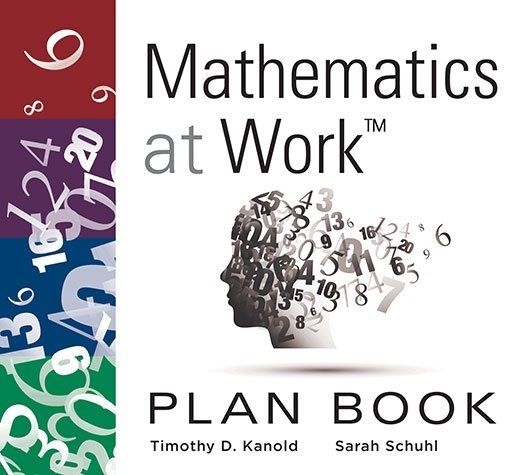 Mathematics at Work™ Plan Book
Access a wealth of math unit planning resources and lesson plan guidance for research-based mathematics practices. Developed by experts Timothy D. Kanold and Sarah Schuhl, this unit planning guide combines 38 weekly planning pages with activities to help your collaborative team ensure every student learns mathematics.
A 38-week lesson plan guide for Mathematics at Work™
Developed by experts Timothy D. Kanold and Sarah Schuhl, this math lesson plan book is a must-have for teachers of mathematics and their collaborative teams. Within this teacher lesson planner, you will find 38 weeks of unit-planning pages and pacing charts designed to help you achieve student success in mathematics. Also included in this lesson plan book are a wealth of activities, reproducibles, and success stories to inform and inspire your work.
Use this math unit planning guide to support your implementation of research-based instructional strategies:
Review the foundational ideas and basic concepts of Mathematics at Work™—a comprehensive PLC at Work® approach to achieving student success in mathematics.
Access unit-pacing charts and daily lesson plan templates for 38 weeks of instruction designed to help math teachers and other educators of mathematics implement the Mathematics at Work process.
Acquire reproducible forms in this teacher lesson planner designed to support the work of professional learning communities (PLCs) and collaborative teams in teaching mathematics and creating math unit plans.
Recognize the positive cultural shifts that occur in schools that follow the PLC at Work process and answer your essential questions for lesson plans.
Read stories from teachers and principals who have seen dramatic, inspiring change in their schools.
Related Topics
Mathematics at Work™MathematicsProfessional Learning Communities at Work®Professional Learning Communities
---
Additional Information
Product Code: BKF933
ISBN: 9781949539530
Published By: Solution Tree
Page Count: 128
"This comprehensive and practical resource further enhances practitioners' understanding of what it takes to ensure that all students learn mathematics. Tim Kanold and Sarah Schuhl provide the tools for teams to build their collaborative culture, focus on students' learning, and achieve results. The Mathematics at Work Plan Book is a must-have resource that serves teacher teams to understand what it takes to do the right work."

"Wow! This is the plan book mathematics teachers and leaders have been seeking. While many schools subscribe philosophically to professional learning communities, Kanold and Schuhl provide teachers, teams, and leaders with the tools and protocols necessary to ensure that collaborative work is intentional, leads to equitable mathematics teaching, and achieves success for every student."