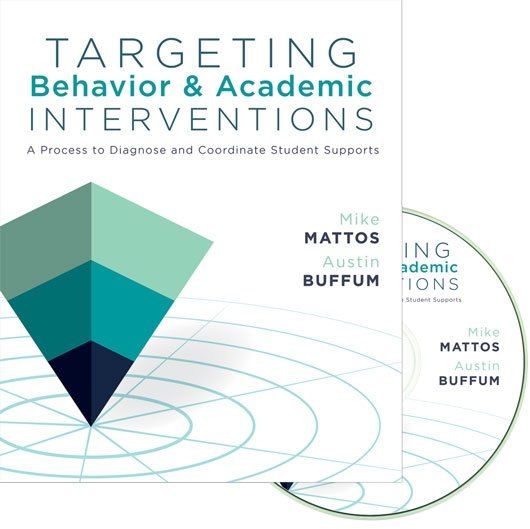 Targeting Behavior and Academic Interventions [DVD/CD/Facilitator's Guide]
A Process to Diagnose and Coordinate Student Supports
As a step-by-step guide to the Pro-Solve Process of behavioral interventions, this RTI at Work™ (MTSS) video will guide teacher teams in increasing student success.
Teaching Behavioral Interventions for At-Risk Students
Students at risk of not acquiring essential academic skills also often experience behavior problems that affect student success. But how can schools coordinate and combine their academic and behavioral interventions into a united system? In this unscripted video workshop from RTI at Work™ co-creators Austin Buffum and Mike Mattos, teacher teams address this dilemma using the Pro-Solve Process. At the heart of the process is a sequence of five questions that help determine the causes and potential student support solutions for those in need of behavioral interventions.
This comprehensive RTI (MTSS) video provides K–12 teacher teams with:
High-quality footage demonstrating the Pro-Solve Process in real teacher team settings
In-depth exploration of the Pro-Solve Process and five guiding questions to effectively implement it step by step
A facilitator's guide with tailored activities and strategies to reinforce participants' knowledge
A CD with a digital facilitator's guide for ease of use
Effective strategies for meeting each student's specific behavioral and academic needs at the necessary response to intervention tier
Related Topics
RTI at Work™Response to Intervention
---
Additional Information
Product Code: DVF072
ISBN: 9781945349195
Published By: Solution Tree