Amplify Your Impact: Coaching Collaborative Teams in PLCs at Work® Virtual Workshop
Please note: Day 1 of this event is on October 16, and day 2 is on October 23.
This event is a virtual workshop delivered via the Zoom meeting platform. Attendees will receive a link to participate two days prior to the event.
Registration will close two business days prior to the event start date.
Amplify Your Impact: Coaching Collaborative Teams in PLCs at Work® Virtual Workshop
Highly effective collaborative teams are vital to the success of every professional learning community (PLC). During this two-day virtual workshop through Zoom, participants will increase their capacity to coach and support collaborative teams as they engage in continuous improvement. Learn how to provide the clarity, feedback, and support necessary for teams to grow in the right work, and leave with a plan for implementing best coaching practices in your school or district.
Participants will:
Examine the current research and practices supporting coaching and collaboration
Explore a promising new approach for providing effective, job-embedded professional development to teachers
Discover a coaching framework anchored in the cornerstones of clarity, feedback, and support
Learn how coaching collaborative teams can improve teachers' instructional practices and lead to increased student learning
Understand how to intentionally shift from coaching individuals to coaching collaborative teams
Acquire tools, processes, and products for coaching collaborative teams in a PLC at Work®
Learn from leading experts
Hear from our attendees
"This virtual format exceeded my expectations. It was great to be able to work with my other two colleagues and really get down to it."
Agenda and speakers are subject to change.
Monday, October 16th
| | |
| --- | --- |
| 10:00 a.m.–12:30 p.m. | Presentation |
| 12:30–1:00 p.m. | Break |
| 1:00–4:30 p.m. | Presentation |
Monday, October 23rd
| | |
| --- | --- |
| 10:00 a.m.–12:30 p.m. | Presentation |
| 12:30–1:00 p.m. | Break |
| 1:00–4:30 p.m. | Presentation |
All times are Eastern time zone.
There will be additional breaks within the presentation times given by the presenter.
"This was AMAZING! I am inspired and have so many actionable items to take back to use with my teams. This training shifted my whole thinking on the PLC process."
"I am impressed with the way the presenter managed the online presentation, kept the attendees engaged, and made it feel like we were all in the room together. He expertly used a variety of tools to enhance the virtual learning. I was happy to work with my colleague and hear from districts in other parts of the country. He managed time well, provided ample time for reflection, and kept it moving."
"As a teacher, I thrive when there is structure. The SIG is a powerful tool I plan to utilize with the help of our Building Leadership Team to help make our PLCs more effective and meaningful. A personal goal I have set for myself is to utilize the framework for coaching collaborative teams: clarify, feedback, and support. These are areas where I greatly need to hone my skills."
Participation Information
You will receive a certificate of participation 6 weeks after the event concludes. Please check with your state department of education for CEU availability.
---
Virtual Events Shipping
All paid orders received up to two weeks prior to event start date, and sent with complete attendee shipping information, will receive their supplies before the event. Orders placed after this two-week time frame will not receive materials before the start of the event. Substitutions made after shipments have been sent are the responsibility of the original attendee. Unforeseen issues with the shipping carriers, or due to weather, are outside of Solution Tree's control and may cause delays in receipt of materials.
---
Additional Information
---
Included with your registration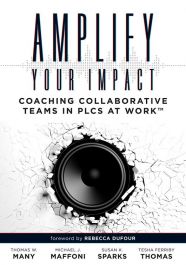 This book will help instructional leadership increase the collaborative learning of its teacher teams through a framework of collaborative coaching methods.