Response to Intervention at Work™ Virtual Workshop
Please note: Day 1 of this event is on November 9, and day 2 is on November 16.
This event is a virtual workshop delivered via the Zoom meeting platform. Attendees will receive a link to participate two days prior to the event.
Registration will close two business days prior to the event start date.
Response to Intervention at Work™ Virtual Workshop
Proven techniques to close learning gaps
RTI is not a series of implementation steps to cross off on a list, but a way of thinking about how educators can ensure each child receives the time and support needed to achieve success. This workshop was developed for school teams who have started RTI but are still refining processes or experiencing challenges. The presenter has worked with hundreds of schools throughout North America and can help your school make RTI efficient, effective, and equitable. RTI work must be divided between collaborative teacher teams and two schoolwide teams (a leadership team and an intervention team). Together, the entire school assumes responsibility for the learning of every student.
Learn why bureaucratic, paperwork-heavy, compliance-oriented, test-score-driven approaches fail, and then learn how to create an RTI model that works. Acquire four essential guiding principles—collective responsibility, concentrated instruction, convergent assessment, and certain access—and experience a simple process for bringing these principles to life in your school.
Drive implementation using the four guiding principles.
Create a school leadership team to steer the shift to a culture of collective responsibility.
Utilize collaborative teacher teams to define essential learnings.
Create a toolbox of effective interventions.
Build a schoolwide intervention team to address complex issues such as motivation, attendance, and behavior.
Learn from leading experts
Agenda and speakers are subject to change.
Thursday, November 9th
| | |
| --- | --- |
| 12:30–1:00 p.m. | Break |
| 1:00–4:30 p.m. | Presentation |
Thursday, November 16th
| | |
| --- | --- |
| 12:30–1:00 p.m. | Break |
| 1:00–4:30 p.m. | Presentation |
All times are Eastern time zone.
There will be additional breaks within the presentation times given by the presenter.
"Clear, concise workshop about RTI! The presenter did a great job of answering questions and breaking down what RTI is all about."
"I loved having time to work with our team, discuss how it all applies to us, and then be able to make plans for our next steps! Our team came away from the workshop feeling energized and enthusiastic about the wealth of knowledge presented."
"Excellent content and examples! It was very timely for what I'm trying to achieve at my school."
"Most valuable information I've received at a training in many years. We are really excited about taking the information we gained and developing a plan that is effective for all students at Bowie."
Participation Information
You will receive a certificate of participation 6 weeks after the event concludes. Please check with your state department of education for CEU availability.
---
Virtual Events Shipping
All paid orders received up to two weeks prior to event start date, and sent with complete attendee shipping information, will receive their supplies before the event. Orders placed after this two-week time frame will not receive materials before the start of the event. Substitutions made after shipments have been sent are the responsibility of the original attendee. Unforeseen issues with the shipping carriers, or due to weather, are outside of Solution Tree's control and may cause delays in receipt of materials.
---
Additional Information
---
Included with your registration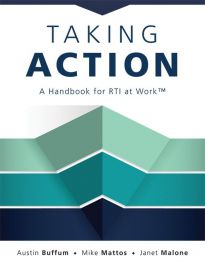 This practical implementation guide will teach you the RTI process (or MTSS) and how it can drive continuous improvement and academic success for your school.